Amidst Increased Attention on the CRA, ANHD's State of Bank Reinvestment in NYC Report Crucial Local Insight
Every year, the Association for Neighborhood & Housing Development (ANHD) produces the State of Bank Reinvestment in NYC, analyzing the Community Reinvestment Act (CRA) activity of 25 local banks and banks citywide to help communities, banks, legislators, bank regulators, and allies understand the impact of the CRA at a local level.
We have a deep respect for the CRA. The CRA has leveraged trillions of dollars nationwide, including $13.1 billion in New York City alone in 2016, and has led to new products and practices, and fostered key partnerships to further community development in cities big and small.  At the same time, income and racial gaps persist, and there are critical needs that are not being met.  The CRA must be strengthened and preserved.
This year's report, The State of Bank Reinvestment in New York City: 2017, comes at an especially important moment in time – 40 years since the CRA passed and 10 years since the 2008 financial crisis, which led to new systemic and consumer protections that were included in the 2010 Dodd Frank Act. Now, we are two years into an administration that seems intent upon rolling back much of those protections.
The Community Reinvestment Act is fundamentally about meeting the credit needs of local communities. Reports like ours are critical for regulators and banks to better understand those local needs and evaluate how well banks are responding. We also hope this serves as a useful resource to regulators who are about to embark upon a process that will likely lead to the biggest overhaul of the CRA in over two decades. As in prior years, this is the first of three blogs that highlight trends from different sections of the report.
DEPOSITS AND REINVESTMENT QUANTITY INDEX & QUALITY SCORE
CRA regulators use a combination of deposits, assets, and Tier 1 Capital to estimate their expectation for the volume of a bank's CRA activities. ANHD believes that a bank's local deposit base is a better method for determining reasonable levels of reinvestment for local geographic areas like New York City. For this reason, ANHD's benchmarks for lending and investments are tied to the banks' local deposits in New York City.
The quality of this reinvestment matters just as much as quantity, and this report goes to great lengths to measure both. Rather than create one overall ranking, we developed a QUANTITY Index to assess the banks' volume of reinvestment dollars loaned and invested, and a QUALITY Score to compare the quality of that lending based on factors we believe indicate a strong commitment to local communities.
Of course, no single tool can capture every aspect of good community development, which is why we hope this more nuanced metric provides a useful tool to highlight areas where banks do well and areas they could improve. This enables us to evaluate banks individually and compare them to each other while still allowing for the CRA's flexibility in the specific loans, investments, and services each bank provides.
SOME TRENDS & FINDINGS
Local New York City deposits increased 14% in 2016 overall, and 12% outside of Manhattan.
We are pleased to see bank reinvestment dollars increase in 2015 and at a faster rate than local deposits. Collectively, the 25 banks in our study reinvested $13.1 billion in 2016, up from $11 billion in 2015 and $12 billion in 2014.
That $13.1 billion reinvested represents just 1.07% of total local deposits, but varies widely among banks. The average percentage of local deposits dedicated to reinvestment was 5.08% and the median was 1.91%.
Quality matters just as much as quantity and we are seeing movement in how these dollars are likely to have the biggest impact by looking at factors such as lending in lower-income tracts and to lower-income people, and by investing in local nonprofits and community development corporations (CDCs).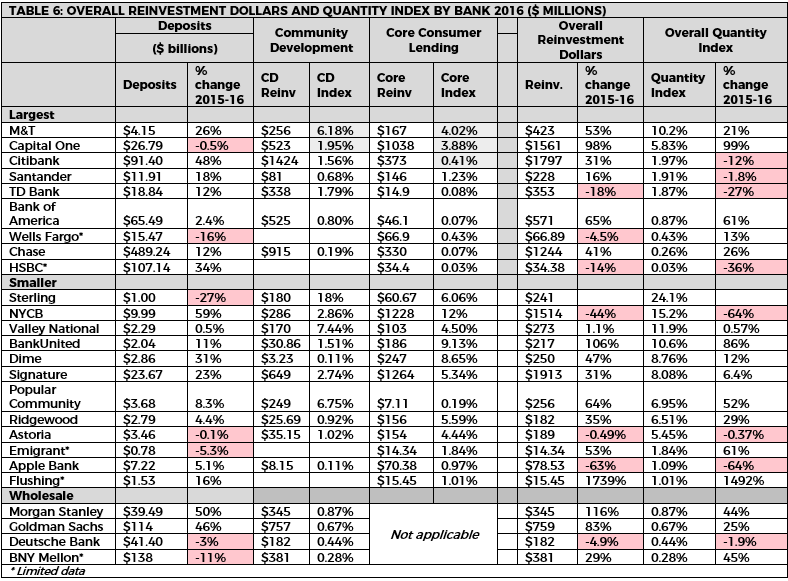 As mentioned above, federal bank regulators are planning the biggest overhaul to the CRA in over two decades and we must be prepared to defend the law. The U.S. Treasury Department issued a report in March, laying out their set of principles for CRA reform. ANHD issued a response that also outlines our high-level recommendations for CRA. Since then, advocates, banks, and legislators have been waiting for the CRA regulators in Washington to officially begin the reform process with an Advanced Notice of Proposed Rulemaking (ANPR), which will most likely be a set of questions for the community to answer, and then lead to regulatory proposals.  The ANPR could come out any day now.
While there are many areas where the CRA needs to be updated and improved upon, we fear that the new changes being considered could weaken the law. We strongly urge regulators to keep the fundamental spirit of the CRA, which is for banks to reinvest in the local communities in which they operate. This report embodies that spirit and we will do all we can to strengthen and protect the CRA over the coming year.
The State of Bank Reinvestment in New York City: 2017
Click here
 to view the chart, How Well Are NYC's Banks Serving Our Communities?
Click here
 to view the chart, 2017 Reinvestment Quantity Index & Quality Score.
Contact Jaime Weisberg, ANHD's Senior Campaign Analyst for questions on the report.