HPD Takes Important Step Towards Responsible Stewardship of Public Land With Announcement of CLT Funding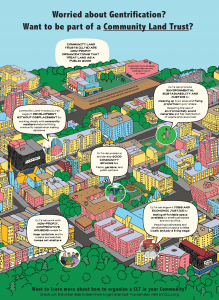 Last week, the New York City Department of Housing Preservation and Development (HPD) announced that four New York City groups will receive $1.65 million in funding to assist in the development, expansion, and education of community land trusts. While a modest sum, the move demonstrates a step from the City to support creative approaches to strengthening community control of public land resources. Many of ANHD's groups and community members will directly benefit from this endeavor and it demonstrates the City's commitment to exploring new programs to ensure that public land continues to be used for public interest purposes in perpetuity.
In January, HPD released a Request for Expressions of Interest (RFEI), asking groups to explain their community land trust initiatives and what kind of support they needed. With this, the City applied for theEnterprise Community Partners' Community Land Trust Capacity Building Initiative, a grant program funded by bank settlements negotiated by Attorney General Eric Schneiderman, as explained by CityLimits.New York City's $1.65 million is part of a total of $3.5 million Enterprise is awarding to New York City, Albany, Suffolk County and Nassau County for community land trust initiatives.
A community land trust is a community-governed nonprofit entity that sells the housing or other buildings on its property but retains ownership of the land. Community groups have pushed for this unique ownership structure because it allows for long-term stewardship of public assets by local community members and organizations, and is one way to ensure permanently affordable housing.
The groups receiving the funding include:
Cooper Square CLT, a long-standing community land trust already established which owns housing on the Lower East Side
Interboro CLT, a forthcoming CLT that plans to help lower-income families buy homes in central Brooklyn, southeast Queens, and eventually, citywide through a partnership with the Center for NYC Neighborhoods, the Urban Homesteading Assistance Board, the Mutual Housing Association of New York and Habitat for Humanity New York City
East Harlem/El Barrio CLT, which will work in collaboration with the nonprofit developer Banana Kelly to acquire buildings in East Harlem, some of which may include buildings from the City's Tenant Interim Lease (TIL) program
New York City Community Land Initiative (NYCCLI), a coalition including the New Economy Project and others that will launch a Learning Exchange to provide technical assistance and capacity-building support to for nine groups – CAAAV Organizing Asian Communities, Community Solutions, Cypress Hills Local Development Corporation, Faith in New York, Mary Mitchell Center, Mott Haven-Port Morris Community Land Stewards, Northfield Community Local Development Corporation, Northwest Bronx Community and Clergy Coalition, and We Stay/Nos Quedamos
Melanie Breault, ANHD's Communications Associate