New Map of Preferential Rents Shows the Displacement Risk for Rezoning Neighborhoods and Low Income Communities City-wide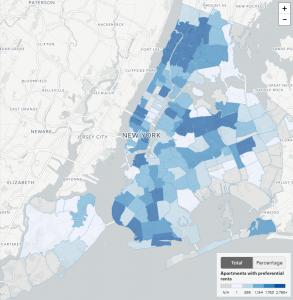 Last week, ProPublica launched a new tool mapping the number of rent stabilized apartments with preferential rents by zip code, throughout New York City. The results are eye-opening. Almost a third of all rent stabilized apartments in New York currently have preferential rents: over 250,000 units citywide. That's over 250,000 households that do not truly enjoy the protections of rent stabilization. That's over 250,000 households that are at risk of displacement, especially in low-income communities.
The use of preferential rents directly undercuts the protection and stability rent stabilization is intended to provide, leaving tenants vulnerable to large rent increases at every lease renewal, regardless of the rates permitted by the Rent Guidelines Board.  Especially troublesome is the prevalence of preferential rents in some of the city's poorest neighborhoods. Six of the ten New York City zip codes with the most preferential rents are in the Bronx, with poverty rates in those areas ranging from 30 to 43 percent – a population that cannot afford a big rent increase.
Of equal concern is the fact that many of these neighborhoods with high numbers of preferential rents are in areas where the de Blasio administration has proposed large-scale rezonings, further exacerbating the risk of displacement. This is a risk the City does not adequately address. The city is mandated to consider how a rezoning could impact current residents, including potential displacement. And yet, when considering displacement risks, the City excludes rent stabilized tenants from their analysis, under the erroneous assumption that their tenancy is secure. The prevalence of apartments with preferential rents shows just how wrong this is.
Take East Harlem as an example, which is currently going through ULURP for a neighborhood rezoning. In its Draft Environmental Impact Statement, the City found no adverse impacts due to secondary displacement. But again, the City did not consider rent stabilized tenants in their analysis. According to ProPublica there are close to 5,000 apartments with preferential rents in the two zip codes that include East Harlem. This means almost 5,000 families are not subject to the limits on a rent increase that rent stabilized tenants depend on. How can these 5,000 families be considered secure in their apartment then, or free from displacement risk? As land values and rents increase following the rezoning, there's nothing to stop a landlord from raising the rent to a level that might force a tenant out.
The same concern exists around the proposed Jerome Avenue rezoning in the South Bronx, where there are close to 9,000 apartments with preferential rents in the two zip codes spanning the area – two zip codes with poverty rates over 40%. The same concern exists in Inwood, or Bushwick, and the list goes on. These are by far not the only households at risk of displacement, both in these rezoning neighborhoods and throughout the city. But these are households we know are at risk just from preferential rents alone.
The goal of the de Blasio administration's Housing New York plan is to both construct and preserve affordable housing. Rent stabilized housing makes up the largest portion of our city's existing affordable housing stock. The new data on preferential rents illuminates once again the vulnerability of rent stabilized tenants, and the need to place protections for existing residents and preservation of existing affordable housing at the center of any affordable housing plan intended to actually address the affordability crisis facing our city.