NYC Relaunches Innovative Industrial Developer Fund
New approach defines affordability, enhances job creation, and expedites awards
Over the course of the past several months, the New York City Economic Development Corporation (NYCEDC) worked with stakeholders and agency counterparts to strengthen elements of the important and innovative Industrial Developer Fund (IDF). The result is a relaunched fund that seeks to streamline and expedite the awards' process while also quantifying quality job creation and affordability benefits for the City of New York. With this important move, the City of New York smartly reaffirms its commitment to mission-driven industrial development as an important new strategy for equitable economic development. Today's release of two Requests for Expressions of Interest (RFEIs) is based on lessons learned from the fund's first award to Greenpoint Manufacturing and Design Center and year one stakeholder input.
The revamped RFEIs take a deeper look at equitable economic development. In addition to the transactional model of creating and preserving industrial space, the IDF focuses on the types of jobs created and the people being served – while ensuring that quality, sustaining jobs are generated for those who are often left out.
It is widely acknowledged that industrial jobs have provided New Yorkers with good wages and a path to career growth for decades. Although the industry continues to remain at risk, investments like the NYCEDC Industrial Developer Fund and predevelopment tools like ANHD's Urban Manufacturing Accelerator Fund provide the resources to preserve and grow New York City's industrial economy.
Today, the industrial ecosystem, which spans manufacturing and goods distribution, employs over 530,000 New Yorkers and provides many access points into good-paying jobs.
Median wages of $50,400 per year and over 60 percent of jobs within the sector do not require a college degree. Many offer a component of on-the-job training.
The majority of industrial and manufacturing workers are immigrants and people of color, according to 2012 U.S. Census data.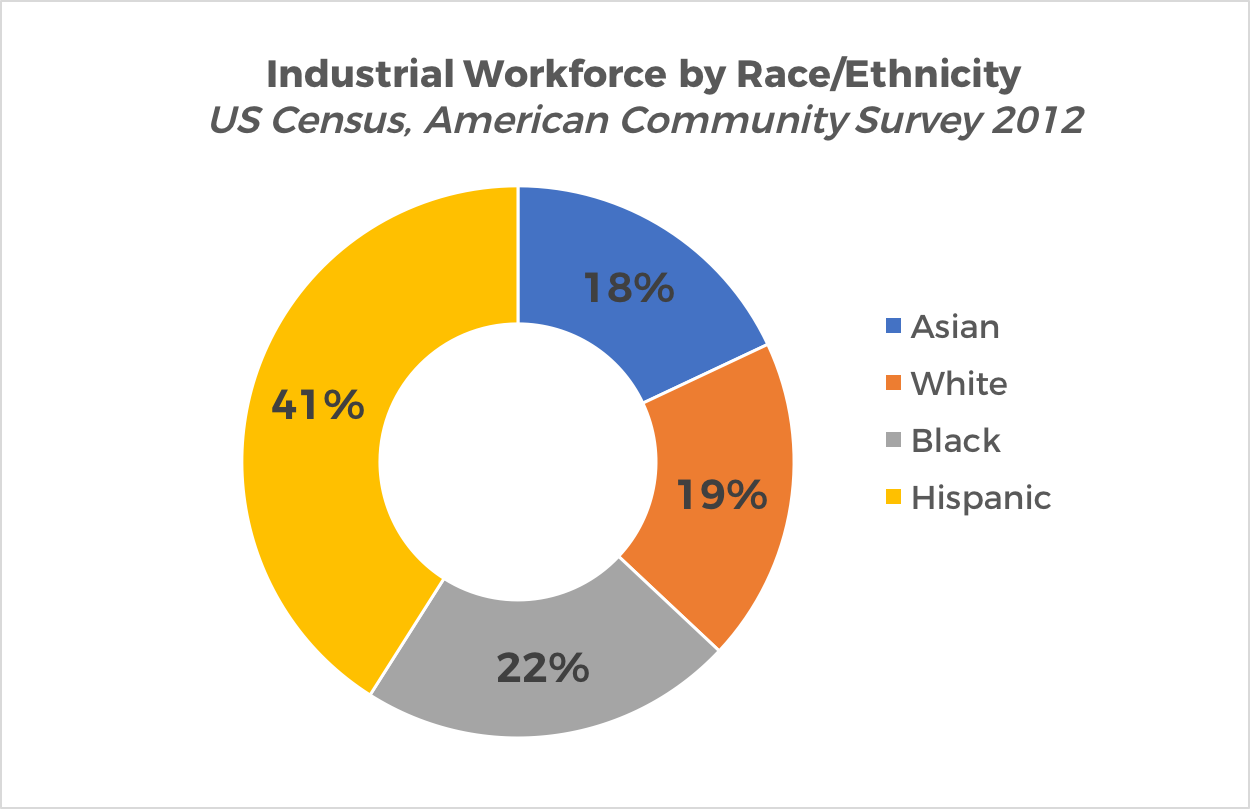 The new NYCEDC RFEIs complement the ANHD Urban Manufacturing Accelerator Fund (UMAF) and capacity building programs. These tools, managed by ANHD with support from founding corporate partner Citi Community Development, provide hands-on technical assistance and pass-through grant funding of up to $60,000 to support non-profit developers with pre-development expenses related to closing on NYCEDC Industrial Development Fund financing. The goal of the Urban Manufacturing Accelerator Fund is to work in partnership with the NYCEDC and create 570,000 square feet of new industrial space through the development of six to eight urban manufacturing facilities, leveraging an estimated $200 million in public/private investment while creating or preserving an estimated 500 quality jobs.
The City's industrial policy is laying the groundwork for real equitable economic development. These efforts can reap real rewards for those who have been historically left out of economic recovery, including low-income earners and people of color. The relaunch of the Industrial Developer Fund is one part of a comprehensive industrial policy that represents a crucial piece of the puzzle in the City's effort to reduce income inequality, and develop vibrant and affordable neighborhoods.
To get a detailed look at the changes in the NYCEDC Industrial Developer Fund RFEIs, email Michael.Br@anhd.org.
Michael Brady, ANHD's Industrial Development Capacity Building Project Manager