Cypress Hills LDC Gets at The Heart of The Community Reinvestment Act: Local Banks Must Reinvest Locally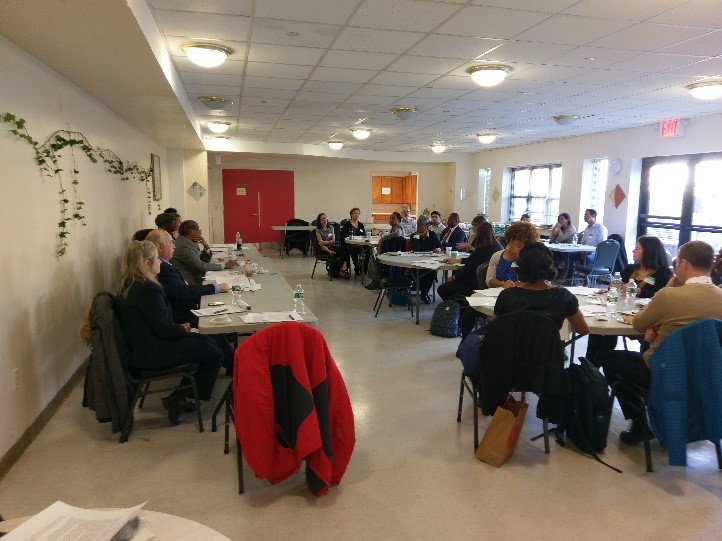 On December 1st, the East Brooklyn Reinvestment Committee, a group of East New York activists and Board and Staff members of the Cypress Hills LDC (CHLDC) held their annual Bank Reinvestment Forum. This powerful forum really gets at the heart of the Community Reinvestment Act (CRA), which requires banks to reinvest and lend equitably in the local areas where they do business – it doesn't get any more local than this. This forum has historically focused on the five banks in the Cypress Hills / City Line area of Brooklyn: M&T, Chase, Citibank, Capital One, and City National of NJ (which has since closed). In recent years, it has expanded to include banks throughout Brooklyn Community District 5, which also includes Bank of America and HSBC.
The forum was well attended by community members and representatives from ten banks, the OCC which regulates most of the local banks, NYC Housing Preservation and Development (HPD), Congresswoman Nydia Velázquez's office, and State Senator Martin Malavé Dilan's office.  Through public data, bank data, stories, and the experiences of community members and CHLDC staff, the reinvestment committee revealed trends in the lending market, highlighted community needs, and made concrete recommendations for banks to follow.
The overall theme this year was, "Banks are going in the wrong direction". They found that residential and small business lending among these banks was down from 2015 to 2016, and the percentage of home lending by local banks has been quite low for a number of years now. Worse, City National Bank of NJ left the Banking Development District (BDD) program two years ago and is now closing their branch, further reducing access to banking in an already underbanked area.
This year's forum focused on four key areas. While the recommendations were very specific to the East New York area, many of them hold true citywide:
Home Lending: Stagnant wages and rising home prices puts homeownership further out of reach for lower-income New Yorkers. Meanwhile, the existing housing stock is aging and in need of repair. Low-income and senior homeowners need access to capital to maintain and repair their homes. CHLDC outlined the characteristics of an affordable and accessible home repair product and urged all banks to offer a product that incorporates them.
Small Business Lending: CHLDC supports over 300 small businesses on their end of Fulton Street in Brooklyn and has an active small business association made up of nearly 50 local businesses. They struggle to access credit to purchase property and expand and operate their businesses.  Their recommendations to the banks include affordable mixed-use mortgages for business owners to purchase their buildings; bilingual business banking staff; financial education; planning support and technical assistance; new lending products for small businesses; and working with CHLDC and the small business committee to carry out these recommendations.
Responsible multifamily lending: After decades of neglect and disrepair in the affordable rent-regulated housing stock, the recent rezoning of Cypress Hills / East New York is now putting residents at greater risk of displacement due to real estate speculation and gentrification. Investors anticipate the area will command higher rents and higher property values as a result of the rezoning. This puts enormous displacement pressure on low-income tenants as landlords seek to push them out to make way for higher paying tenants. Now is exactly the time for banks to pay attention to the lending they do and ensure that it does not facilitate harassment or displacement. The reinvestment committee advocated with banks to commit to ANHD's set of best practices for responsible lending: Responsible underwriting; proper vetting of landlords; and responding appropriately and proactively when problems arise.
Access to Banking and a new BDD Bank Branch: The Banking Development District (BDD) program offers publicly-subsidized deposits so that banks are able to increase access to banking in underbanked areas through bank products, loans, investments and services. City National of NJ had a BDD branch for many years. However, they lost that designation and later announced they were closing the branch entirely. CHLDC is looking for another bank to fill in that gap by opening a new BDD branch in the same location. They want this BDD branch and all banks serving this neighborhood to offer affordable home and home improvement loans, a safe affordable bank account that accepts the IDNYC, small business loans and supports, and responsible multifamily lending.
The Community Reinvestment Act is one of most important tools we have to bring banks to the table.  Cypress Hills is an excellent example of a local organization doing just that – literally bringing banks to the table to learn about local needs. We now call on these and all banks in New York City to act by responding to these needs with products, loans, investments and services.
Jaime Weisberg, ANHD's Senior Campaign Analyst