Tenants Take Demands for Responsible Lending to Signature Bank Shareholders Meeting
Tenants living in buildings financed by Signature Bank complain about poor conditions and indifference from the bank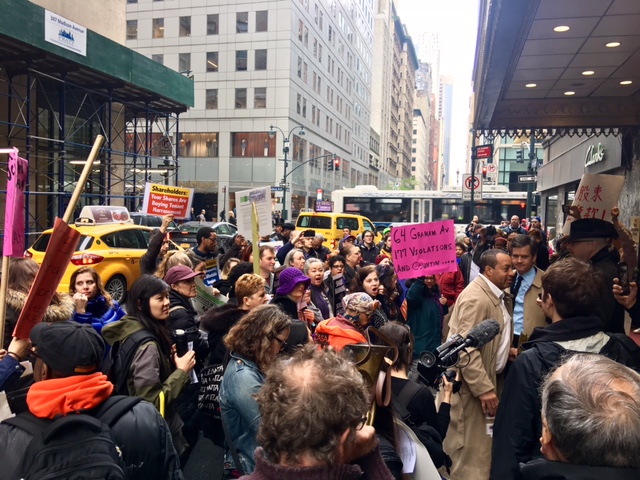 NEW YORK — This morning, tenants from 10 community organizations and their allies, including Senator Brad Hoylman, Senator Gustavo Rivera, and a representative from Public Advocate Leticia James's office filled the sidewalk with a picket line outside of Signature Bank's annual shareholders meeting in Manhattan. At the rally, the tenants and elected officials tried to hand-deliver a letter to the board of directors to demand responsible lending practices to protect their rights and health, and preserve our stock of affordable rent-regulated housing.
Tenants living in properties financed by Signature Bank have been complaining about alleged harassment, unsafe construction activities, poor housing conditions and questionable rent increases. They expressed concerns about multiple landlords who have Signature loans, including Ved Parkash, Raphael Toledano, Ink Properties, Icon, and A&E. Advocates also noted that Signature has made loans on buildings formerly owned by Marolda Properties, which is under investigation by the Attorney General's Office.
"I lived at 750 Grand Concourse for 15 years, in the basement. I never knew it was an illegal apartment. In February, I was evacuated after we found out about the disease that rats brought into the building because my landlord, Ved Parkash, never did enough about the rats," said Carlos Chavez, a tenant leader from CASA. "All these troubles are due to the negligence of the landlord. But, I can't believe he is still getting loans from Signature."
Chavez lived in the South Bronx building where the rat infestation was so severe it led to the illness of a tenant earlier this year from a rat-urine-borne disease. When eight illegal basement apartments were cleared, those tenants were displaced. Chavez lived in a hotel in Queens until last week, when he was forced to leave. He still has no home. Additionally, advocates report that rat infestation and other poor conditions have persisted for years — and are ongoing — in this and other buildings owned by Ved Parkash.
Elected officials also expressed concerns over Signature's actions. Several joined tenants in their demand for responsible lending.
"By providing him with significant financial support, Signature Bank has not only allowed Mr. Parkash to continue purchasing buildings across our City, but they have also aided in him subjecting thousands of New Yorkers, in particular Bronxites, to unacceptable living conditions," said State Senator Gustavo Rivera. "I urge Signature Bank to reconsider its relationship with such a careless landlord and I remain committed to working with the North West Bronx Community and Clergy Coalition (NWBCCC) and the other coalition members as we stand in support of those tenants who continue to be subjected to nefarious and inhumane living conditions."
"Time and again we see unscrupulous landlords not only subjecting New Yorkers to inhumane conditions, but using discriminatory and illegal tactics in an effort to force tenants out of affordable homes," said NYC Public Advocate Leticia James. "It's time to stand up to the banks that finance the worst landlords and stop the flow of money. We will always stand with tenants, and will never stop fighting for the right for every New Yorker to have a safe and decent home."
"Signature Bank is not only failing to be a good neighbor, but is choosing to support several of the bad neighbors and bad actors in our community who are a part of the problem and not the solution," said New York City Councilmember Vanessa L. Gibson. "On behalf of my district, I am proud join with ANHD, CASA, Northwest Bronx Community and Clergy Coalition, Urban Justice Center and all of the housing advocacy organizations in calling on Signature Bank to commit to the best practices included in this letter and I strongly urge them to reconsider their partnerships with negligent landlords who profit by taking advantage of their tenants. We aim to work with those who always have the best interests of our constituents and see people over profits in the collective work we do to build and maintain quality housing for all New Yorkers!"
Tenants and their allies want Signature to adopt policies that safeguard tenants and communities. They contend that negligent and malicious landlords cannot operate without financial backing from banks.
"We have serious concerns about Signature Bank's lending practices in New York City, particularly on more affordable rent-regulated housing," said Jaime Weisberg, Senior Campaign Analyst at the Association for Neighborhood and Housing Development. "Signature Bank is financing some of the worst actors in the city, who have contributed to displacement, hazardous construction, dangerous living conditions and a loss of essential services for tenants."
When tenants from Raphael Toledano's buildings asked Signature to commit to a set of best practices, the bank refused. So they took their demands directly to Signature's board of directors and shareholders. In the letter they presented at this annual meeting, they asked the bank to adopt multifamily lending best practices, including the following measures:
Responsible underwriting based on current, in-place rents (including preferential rents) and realistic maintenance costs
Realistic appraisals
Consult multiple sources to evaluate the record of landlords and property managers
Hold regular information and engagement sessions with tenant organizers and tenant leaders
Hire a point person who will visit buildings and meet with tenants
In cases where the loan has already been made, work with borrower, community organizations, tenants and the government to address issues
In cases where the loan is under consideration, proactively address issues or decline the loan application
Use the same standards for collateral loans and loans made through a mortgage broker
Participate in the First Look Program to transfer buildings with distressed loans to responsible preservation-minded developers
A letter to demand immediate action was delivered to Signature officials attending the meeting. The letter, signed by tenant organizations, was also sent to regulators, city council members and other allies. The group awaits a response from the bank.
"For years, our organization has partnered with community groups to represent tenants across Signature Bank's multifamily portfolio in court," said Rajiv Jaswa, a staff attorney at the Community Development Project of the Urban Justice Center. "In most cases, it seemed everyone but Signature Bank ultimately paid a price: Tenants suffered in unsafe homes; landlords eventually paid for repairs and fines; taxpayers paid for inspections. Signature apparently still turned a profit. Today, we stand with our clients and ask Signature Bank to take responsibility."
"Signature Bank needs to stop propping up slumlords like Toledano and Icon Realty," said State Senator Brad Hoylman. "Do their shareholders understand that Signature is lending to developers whose apparent goal is the displacement of rent-regulated tenants? These slumlords have shown they will stop at nothing to force our long-time community members out of their homes and small businesses."