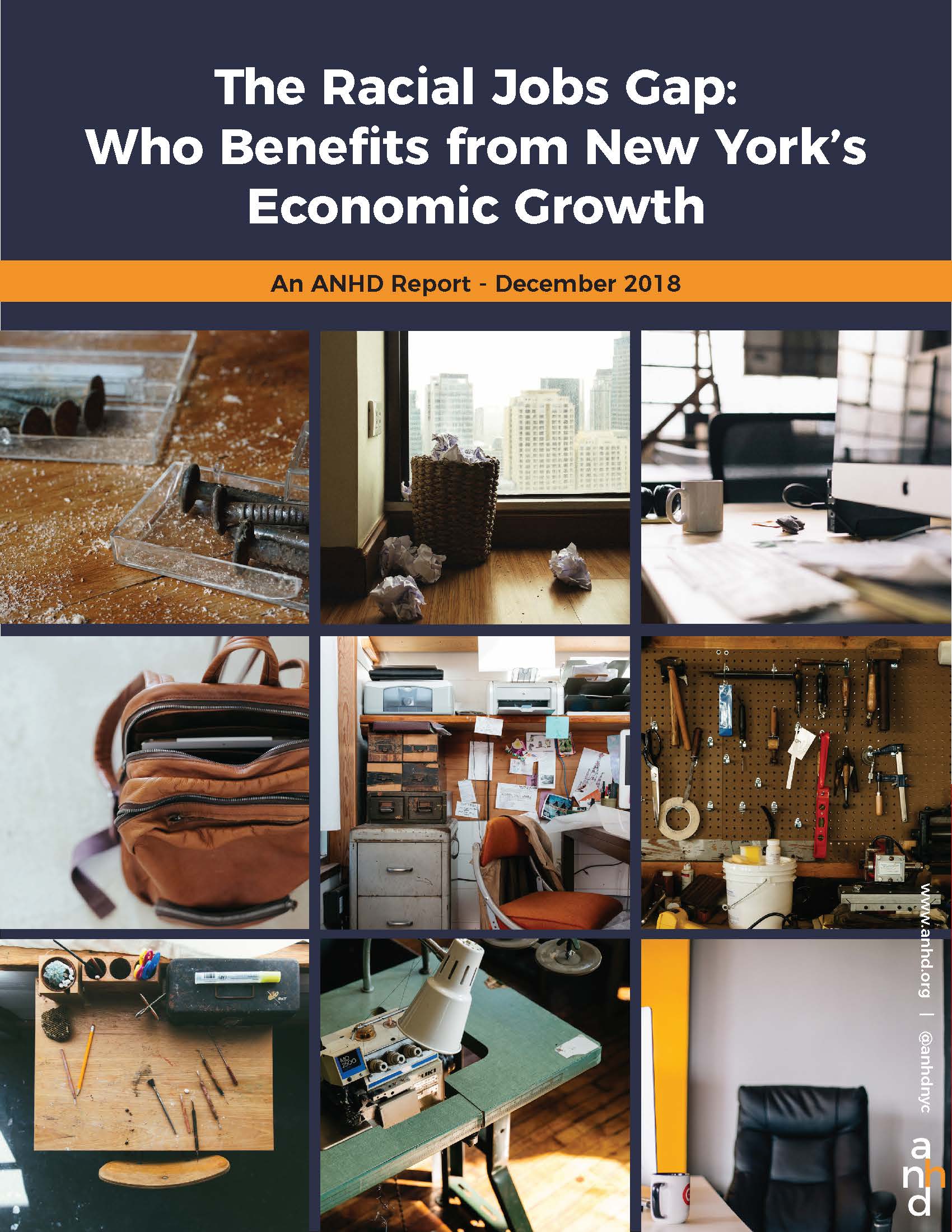 New York City is experiencing a remarkable economic development boom. Over the last fifteen years, the City has successfully implemented a development strategy that prioritizes attracting new businesses and sectors to the five boroughs. With the creation of Cornell Technion on Roosevelt Island, Google's expansion in Chelsea, and Amazon's second headquarters proposed for Long Island City, New York has cemented itself as a leader in sectoral growth across high paying, lucrative industries. The City has promised local residents that new economic development projects will lead to more economic opportunity for everyone. However, this historic growth has not created an equal benefit for the communities that most need it, and has in fact had a negative impact on New York's low wealth communities and communities of color.
In ANHD's newest report, The Racial Jobs Gap: Who Benefits from New York's Economic Growth, we find that that while unemployment has dropped and total jobs have grown citywide, a disconnect remains between local jobs, opportunity, and employment for local residents, particularly in communities of color that have faced historic disinvestment. The jobs are there, but residents continue to be left behind.
Though New York City's economy has experienced steady growth over the past decade, with a 19% increase in the total number of jobs since 2009, that growth has not been equitably distributed. Average monthly asking rent in New York City was $2,700 in 2017. While rents rise, the city continues to become increasingly unaffordable. ANHD's analysis finds that 43% of all jobs in New York City pay less than $3,333 a month, or roughly $40,000 a year. And while 57% of jobs in the City are good paying jobs, they are less likely to go to workers of color. Communities of color are not only excluded from the City's economic boom, they are at greater risk of displacement as housing costs rise and access to the good paying jobs that the City has created remains limited.
The Bronx presents the starkest example of the discrepancy between good local jobs and access to those jobs by neighborhood residents. The borough is home to the highest concentration of living wage jobs outside of Manhattan, with 48% of all Bronx jobs paying more than $40,000 a year, but 66% of people living in the Bronx earn less than $40,000 per year. This means that the majority of good paying jobs available in the Bronx are not held by Bronx residents. Despite the availability of good paying local jobs, 28.4% of Bronx residents live in poverty and 35% of residents are rent burdened due to rising costs of housing.
A lack of affordable housing, coupled with a dearth of good paying jobs, has put low- and moderate-income New Yorkers in a state of constant precariousness – 44% of New Yorkers are rent burdened, meaning they spend 30% or more of their income on housing costs. Communities of color, in particular, have been left out of the City's great economic growth and are disproportionally impacted by the City's affordability crisis; 50% of families of color in New York City are rent burdened.
Neighborhood stability depends on both strong housing protections and access to stable wages for all residents. In order to ensure that all New Yorkers have access to good jobs, the City must undertake an economic development strategy that includes job training, a commitment to making sure local jobs go to local people, an enforceable targeted hire policy, and a strategy that addresses the very real issues of displacement that arise as a result of new development.
The residents that are overlooked by the City's job growth strategy are the same residents who have continually been excluded from opportunities for economic mobility because of policies rooted in systemic racism. A job growth strategy that does not take into account historic discrepancies in access to economic opportunity simply continues the same legacy of systemic exclusion of communities of color.
As ANHD members have continually stated: No housing is truly affordable without a good job. In order for our City to thrive, it needs to provide opportunities for stability and opportunity for all New Yorkers. It's time that New York moves beyond empty promises of simple job creation to a commitment to good jobs for all New Yorkers.