The U.S. House of Representatives sent the "American Rescue Plan Act" (ARPA) to the Senate for passage this week. It could be the third relief package enacted during this pandemic. ANHD would like to thank all of our partners in organizations across the county and elected officials at the local and federal levels who have pushed and continue to work to win COVID-19 relief our communities desperately need.
In light of another multi-trillion dollar stimulus bill – one that includes more than $40 billion in essential housing and homelessness assistance – ANHD took a look at how previous relief bills have impacted budgets at the household level.
We analyzed multiple scenarios, including two hypotheticals and a real-life example from our member organization Los Sures, which revealed just how insufficient "relief" has been for a typical New York family.
Household #1: N & Q
N and Q have two young children. Before COVID-19, N worked as a chef but lost her restaurant job at the beginning of April. Q has been able to maintain her part-time work as a translator. N and Q's monthly income after taxes had been $5,420 and rent for their two-bedroom apartment is $2,500. Their healthcare is very expensive, and they carefully plan their budget; they don't usually have anything left over to save for retirement or for their kids to go to college. They pay 37% of their pre-tax monthly income on rent, making them rent-burdened before the pandemic even began.
Average Monthly Budget, January – March 2020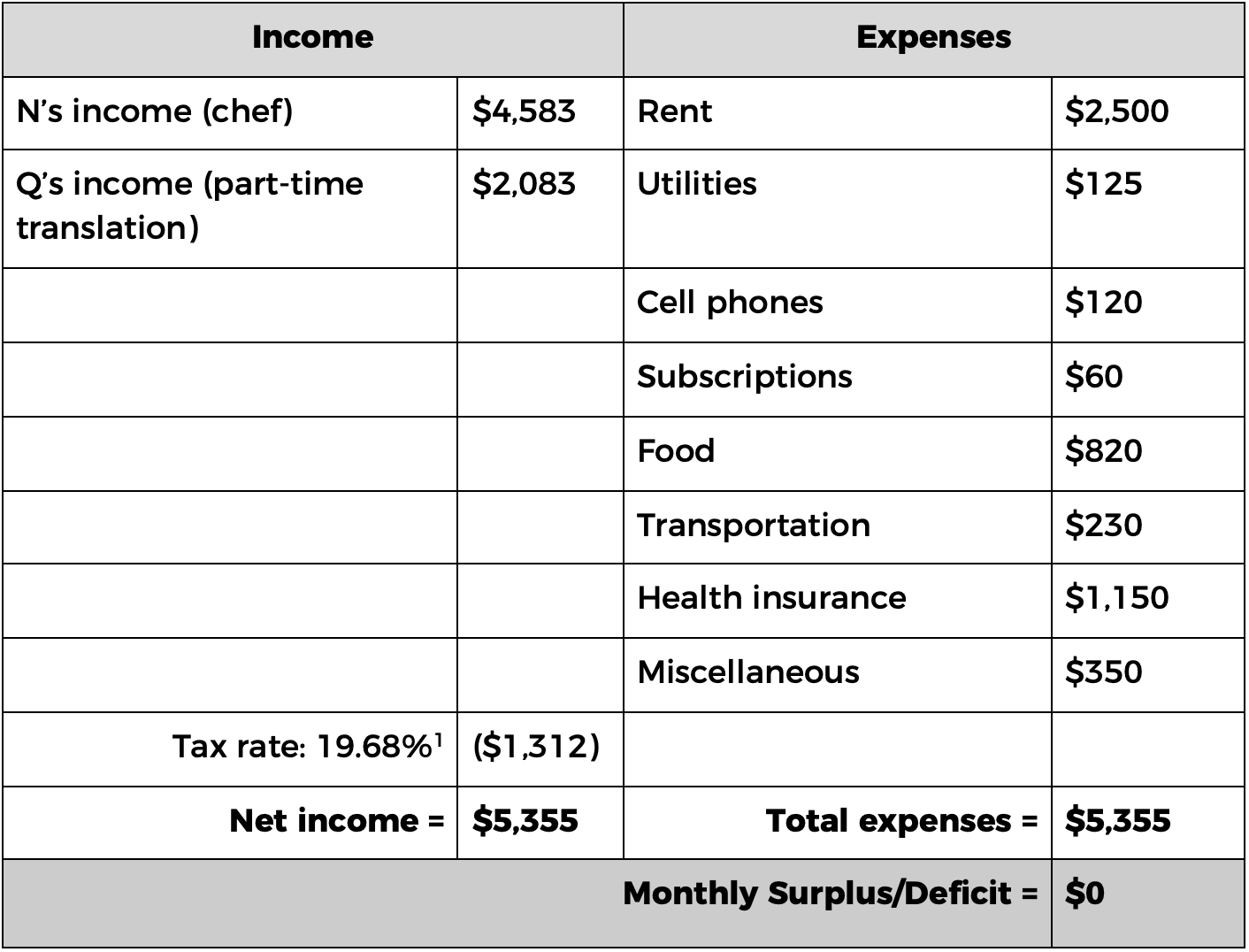 Between April and July, N qualified for $504 per week in unemployment and $600 in pandemic assistance. Their food and utility costs increased since their kids were home most of the time, while their transportation costs dropped by $200. With the extra income and lower expenses, N and Q had an extra $231 per month in their budget. They also received a $3,400 (untaxed) stimulus check. By the end of July, they had saved $4,244.
Average Monthly Budget, April - July 2020[2]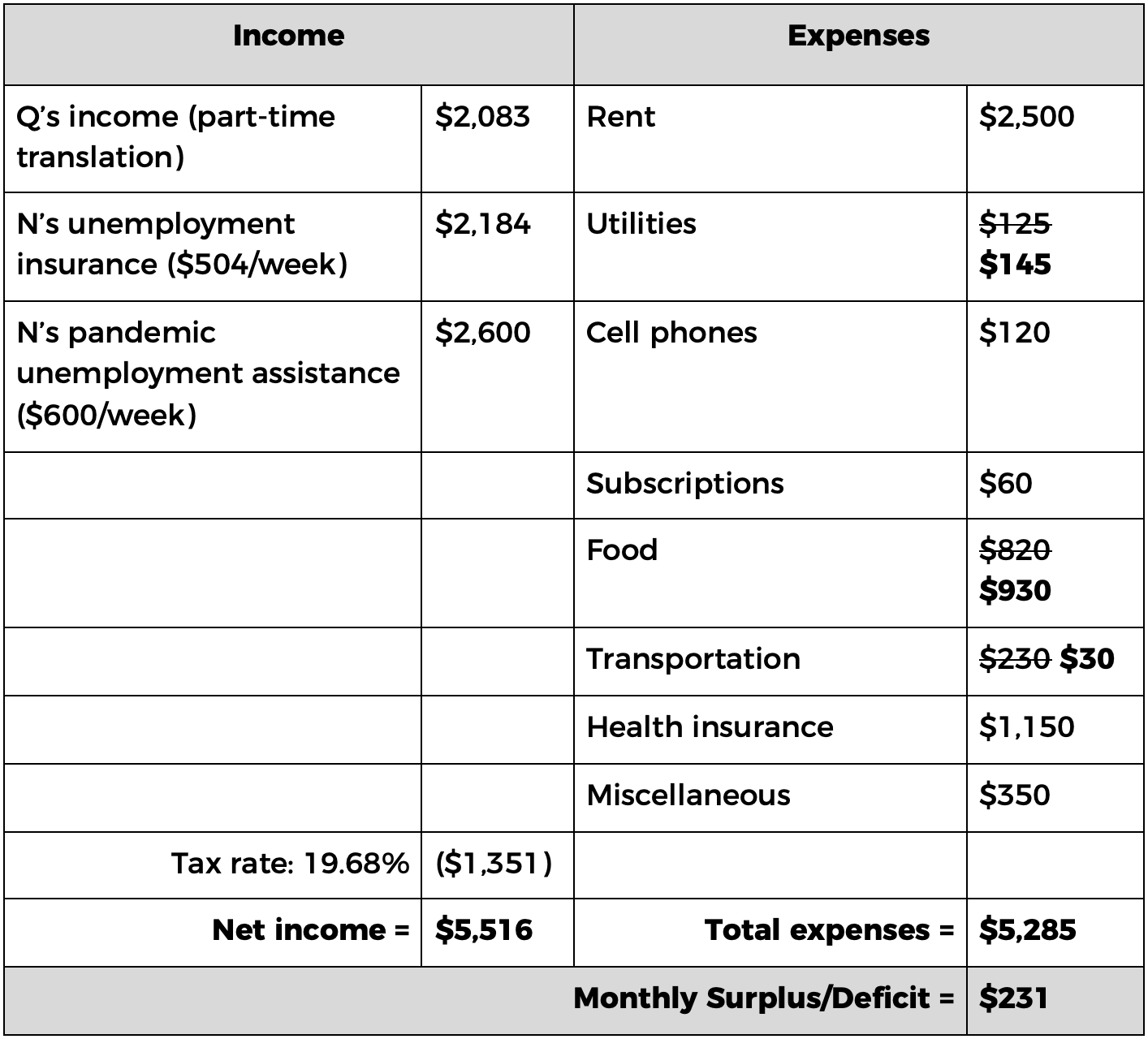 When pandemic assistance expired, their income dropped to $3,428 and even after cutting all the costs they could, their monthly budget was short $1,667 by August.
Average Monthly Budget, August - December 2020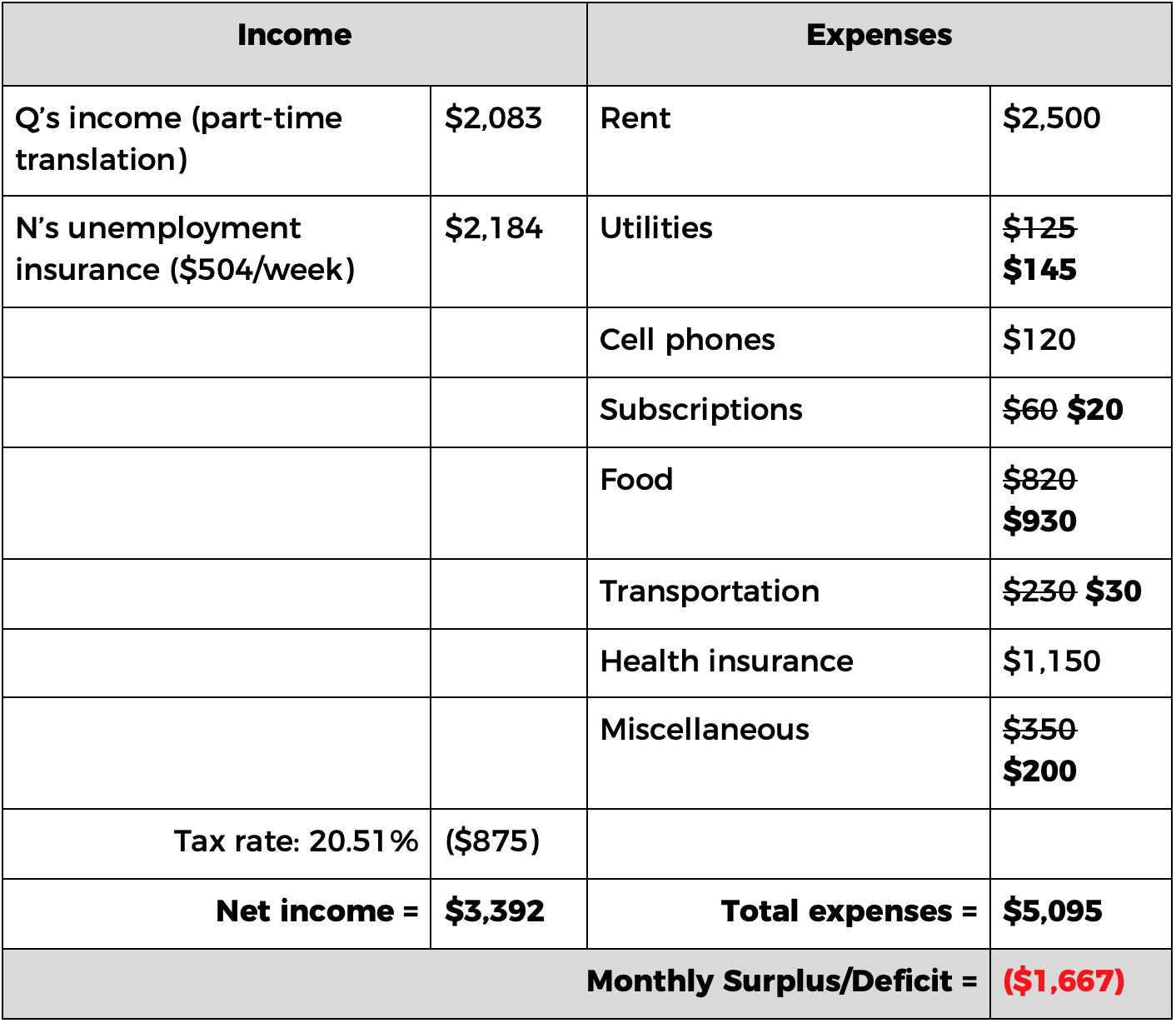 N and Q spent their savings to make rent for September and October, but then the savings ran out. They paid their November rent late and couldn't make their rent for December or January. At the end of the year, they owed their landlord $5,000.
N tried to apply for COVID Rent Relief from New York State Homes and Community Renewal, but the program required her family to have lost income between April and July, and that's when their income was supplemented by COVID-19 assistance.
Average Monthly Budget, January - February 2021
At the end of December 2020, N began receiving $300 per week from the second federal relief package, which lasts through March 14, 2021. That brought the household's monthly budget deficit down to $623, and they received a second stimulus check for $2,400 at the beginning of January. With the second stimulus check, they were able to pay their back rent for December and January, but still couldn't pay their February or March rent on time. As of the end of February, they owed their landlord $2,500 and have no means of catching up.
N and Q filled out the hardship declaration to protect them from eviction through May 1, 2021, but are worried about hostility from their landlord who thinks they have more money than they do. Their faucet started leaking, but the super stopped returning their calls. They don't know when they'll get relief for the back rent they owe and are anxious they won't get what they need before they get kicked out of their home.
Household #2: B, D, and F
B and D live in Queens and have two young children. They live with D's cousin F. All adults in the household are undocumented, but the kids were born in New York City and are U.S. citizens. B and F work as cooks and deliver food, and D works in a friend's clothing store. All of them pay income taxes. Usually, they have a combined monthly post-tax income of $4,548 and pay $2,400 for a small three-bedroom apartment. They pay 48% of their income on rent, making them heavily rent-burdened.
Average Monthly Budget, January - March 2020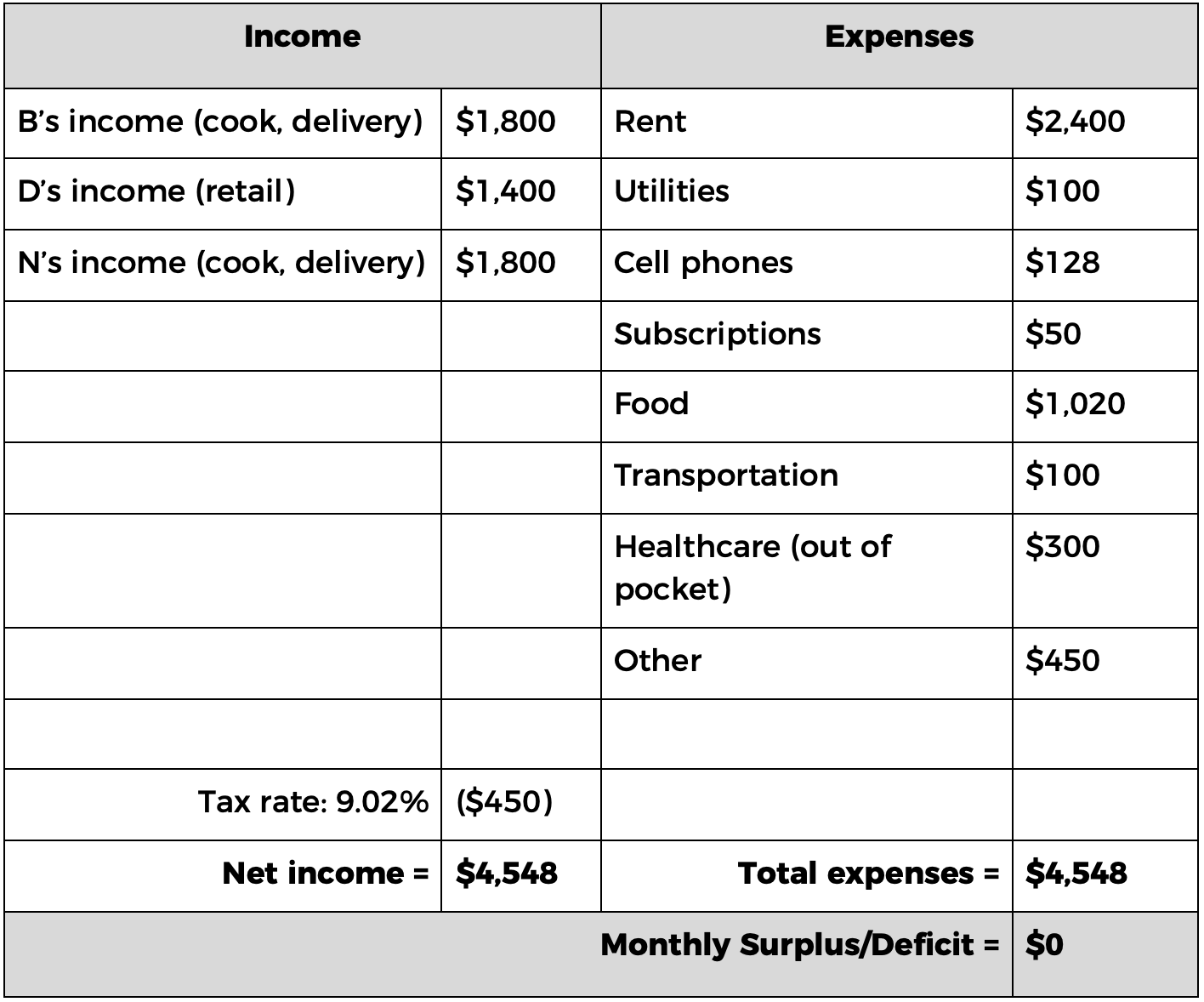 B, D, and F have lost most of their work since April. Between the three of them, their monthly income has dropped to $2,274 and even with cost cutting, they're short $1,711 per month. Being undocumented, they haven't qualified for any unemployment, pandemic assistance, or stimulus checks.
Average Monthly Budget, April 2020 - February 2021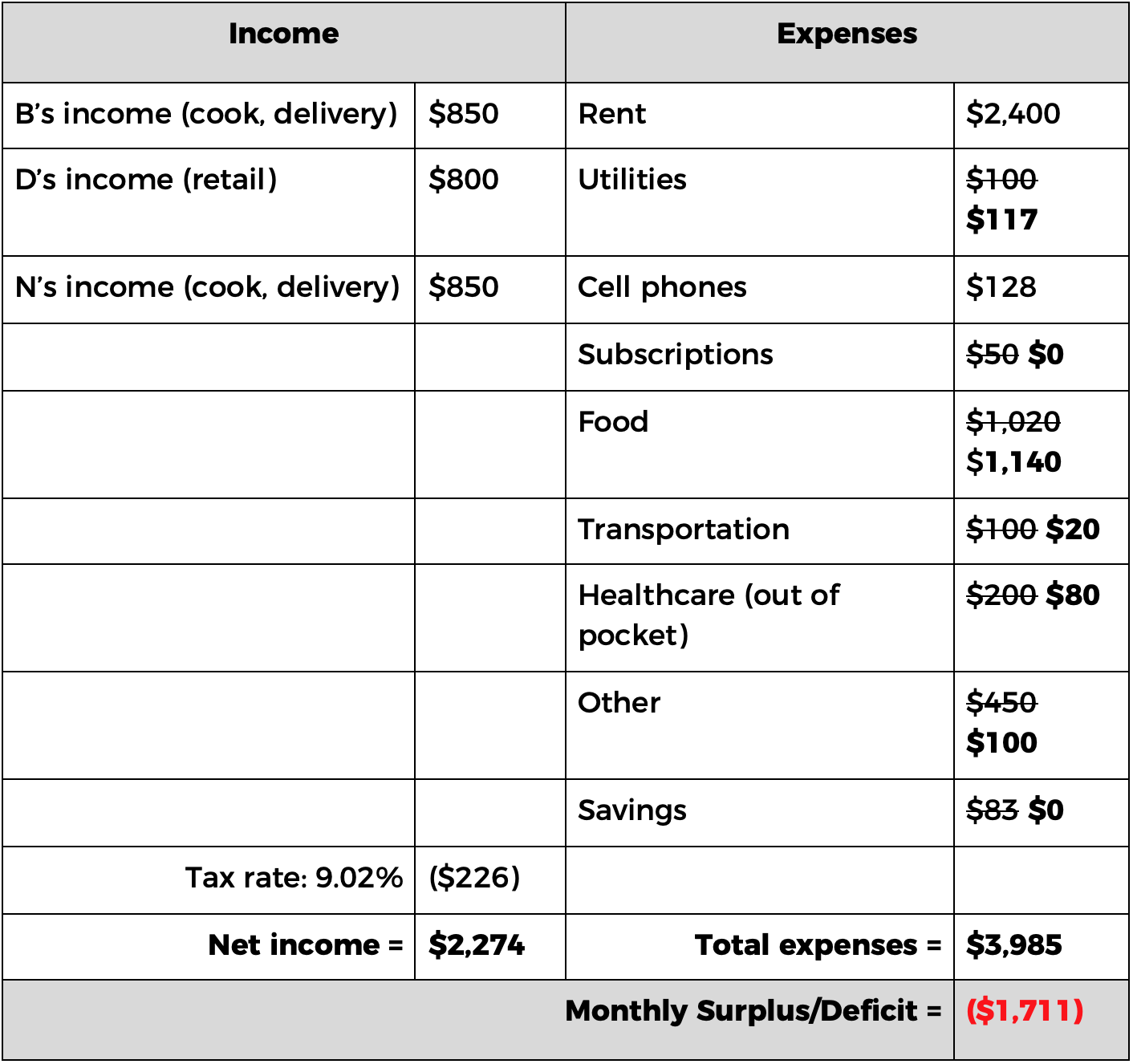 Having such a large gap between their income and expenses with no assistance means that B, D, and F are accruing huge amounts of debt that they have no means of paying back. Once their income dropped, they weren't able to pay rent for the month of May until it was already July. They owed $9,600 in rent by the end of August, when the first eviction moratorium expired. Their landlord immediately filed an eviction case against them.
With rent relief, B, D, and F have only been able to pay five months of rent during the entire pandemic. They currently owe their landlord $14,400, or six months of rent.
Because the children in the household are citizens, B, D, and F applied for New York State's COVID Rent Relief, which gave them a partial rent subsidy for the months of April, May, June, and July based on their pre-existing rent burden. This worked out to one payment of $4,800, which their landlord received in October.
B, D, and F wanted to pay off more of the rent they owed but couldn't do anything; even when their landlord got the rent relief check they were still behind. As of the end of February, they were able to save up enough to pay one more month of the rent they owed, but still owe 6 months of rent, or $14,400. The family has no way to pay the debt off and is terrified of being kicked out and becoming homeless.
This is Real Life: Alma, A Member of Los Sures Lucha
Alma lives in Brooklyn with her husband and their 20-year-old son. Alma has a medical condition that makes it difficult for her to work so she does odd jobs when she can. She and her husband are undocumented, but their son has U.S. citizenship. Before the pandemic, her husband worked full-time in a restaurant and was the breadwinner for their household, and her son was attending college full-time.
They paid $949 dollars per month in rent, and her husband made around $2,600 per month ($600 weekly), meaning that Alma's family was already rent burdened before the pandemic: they paid almost 37% of their income towards rent. Additionally, they were paying for electricity, gas, their phones, and internet, as well as their son's tuition. At the end of every month, they had hardly any money left over, if they had any left at all.
In the middle of March, the restaurant where Alma's husband works closed. They applied for rent relief when it was available and should have been eligible based on their income level and their son's citizenship. They were denied without a clear explanation, but believe it was because Alma's husband worked overtime towards the end of 2019 and that might have affected their eligibility. The program did not take into consideration that they were paying for their son's school.
Between April and Now
Alma and her family were very afraid, both of COVID-19 and eviction. Alma was working small jobs to make up for her husband's lost income but started to feel strong symptoms of COVID-19, and they were all extremely worried. After that, they tried to leave their home as little as possible, only leaving the house to get food from pantries or other places in the community distributing food. They learned of the eviction moratorium from organizers at Los Sures and felt some relief that they would not immediately be evicted or have their utilities cut off.
They were unable to pay rent starting in April. Alma's son was forced to take out loans to stay in school and began to look for work near his college. He found a job in the Spring where he began making just enough to cover his student loan payments and remain enrolled. Even though he is a citizen, he never received any of the stimulus checks.
Alma's husband has consistently checked to see if he can go back to work, but his restaurant has not yet reopened. Alma's family has not been able to pay rent in 12 months and are only surviving because of the food they have been able to access and the eviction protections keeping them in their apartment and their utilities connected. Alma wanted to share her story because she knows there are people in even more challenging situations who don't know their rights, and she knows that working together is the reason we had an eviction moratorium at all.
Her family does not know if they will receive rent relief or what will happen if the eviction moratorium is lifted.
It's Not Just Alma
Alma and her family are just one of the millions who have been suffering their way through this pandemic trying to make ends meet. Even for households that qualify for assistance in its different forms, their debt keeps piling up and their ability to stay in their homes is uncertain. As our federal and state governments continue to negotiate the terms of more aid, they must attend to its impact at an individual and household level. If not, the holes in our safety net will just keep getting bigger.
---
[1] We estimated an annual tax rate for the year 2020 using the iCalculator US tool: https://us.icalculator.info/tax-calculator/annual/2021.html. We added 3.5% to approximate New York City income tax, calculated the household's total gross income for the year 2020, and applied that same rate to every average monthly budget. The estimated rates for both households include child tax credits.
[2] This budget reflects the time that PUA was available, April 5 through July 25, which is 16 weeks and slightly less than 4 months.