The Association for Neighborhood & Housing Development (ANHD) is pleased to release a major update to the Displacement Alert Map (DAP Map). This new version includes important improvements and updates to the data, making it more useful than ever for community groups, decision makers, and New Yorkers to see where and how displacement pressure is rising so they can plan how to do something about it. DAP Map is a part of ANHD's multi-tool Displacement Alert Project (DAP), which visualizes key displacement data in three clear, useful, and actionable formats.
We know from our research and support of on-the-ground organizing over the years – and every New Yorker knows intuitively – that displacement is a widespread crisis, but exactly what drives it varies by neighborhood. Displacement is a complex problem; it looks different in Bushwick than it does in the South Bronx or Chinatown. In Bushwick, rental buildings are smaller and not rent-stabilized; in the South Bronx, most buildings are stabilized but have at-risk preferential rents; and in Chinatown, residents are facing rapid development pressure. To capture this multifaceted displacement crisis, the Displacement Alert Map uses loss of rent-regulated housing, property sales, construction permits, and evictions across New York City's 763,000 residential properties.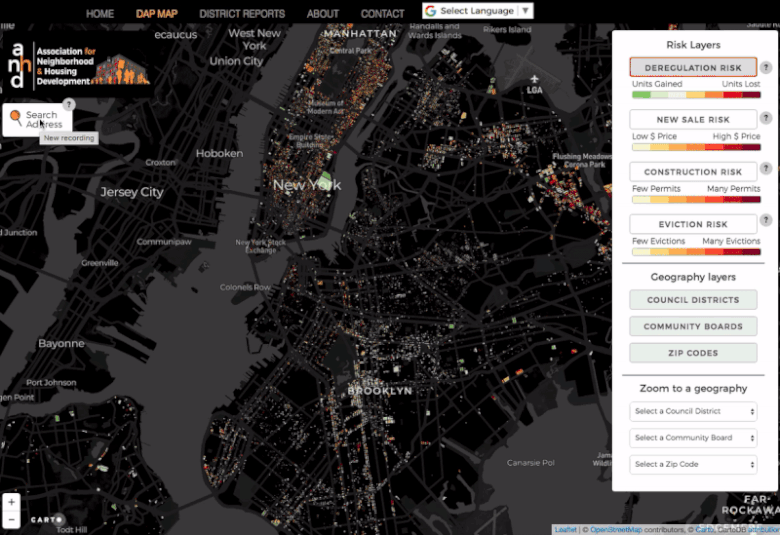 DAP Map 2.0 now contains over a decade of key data on residential displacement in New York City. You can use the color-coded risk layers to see neighborhood and citywide patterns. Clicking on any individual building or searching by address lets you see the details for that property and directly navigate to in-depth information about the property from city agencies. Along with updates to the layers on deregulation, sales, and construction permits, it includes newly available data on 17,700 evictions performed by court-ordered marshals across 12,000 properties.
DAP Map shows the necessity for nuanced and comprehensive solutions to the displacement crisis. It shows construction permits and loss of stabilized housing, which can indicate landlords harassing tenants out of their rent-stabilized apartments so they can renovate and deregulate them. Last year, the Coalition Against Tenant Harassment passed the Certificate of No Harassment law to use the permit process as leverage to disincentivize landlords from harassing tenants out of their homes. Similarly, high volumes of construction permits on the map can indicate construction itself being used to harass and displace tenants, which the Stand for Tenant Safety Coalition is combatting with new laws to protect tenants and increase penalties to abusive landlords. It shows executed evictions; to combat landlords illegally evicting low-income tenants, the Right to Counsel Coalition has secured a right to representation in housing court. And it shows high-price sales; where predatory equity is pushing speculation and overleveraging in the stabilized housing market, ANHD is working with members on new research, organizing strategies, and tactics to stop predatory sales before they take place and the City is publicizing speculative sales.
Advocates have made important strides in the past two years to fight tenant harassment and displacement, which disproportionately impacts New York City's low-income communities and communities of color. But no single legislative victory or new policy is a silver bullet. We have to ensure the City effectively implements and enforces newly-won policies to make sure they achieve their intended impact, and we have to keep pursuing comprehensive strategies to end displacement. The Anti-Displacement Policy Toolkit that ANHD released in July is a starting point for new solutions and DAP Map 2.0 will help advocates, organizers, policy-makers, and tenants understand where different tools may be most useful based on the types of displacement risks occurring at a local level. It can help us understand trends in different neighborhoods and housing stocks and can reveal where gaps remain in our policy efforts.
ANHD's other Displacement Alert Project tools further support this work by assisting on-the-ground organizing. The Displacement Alert District Reports show new displacement risk each month in rent-stabilized buildings in every community board. The Displacement Alert Watch List compiles rent-stabilized buildings being marketed at prices that are likely speculative, so organizers can preempt displacement impacts. Sign up for DAP updates to learn more.
We look forward to continuing to work with our members and allies on data tools that fuel and support the organizing movement!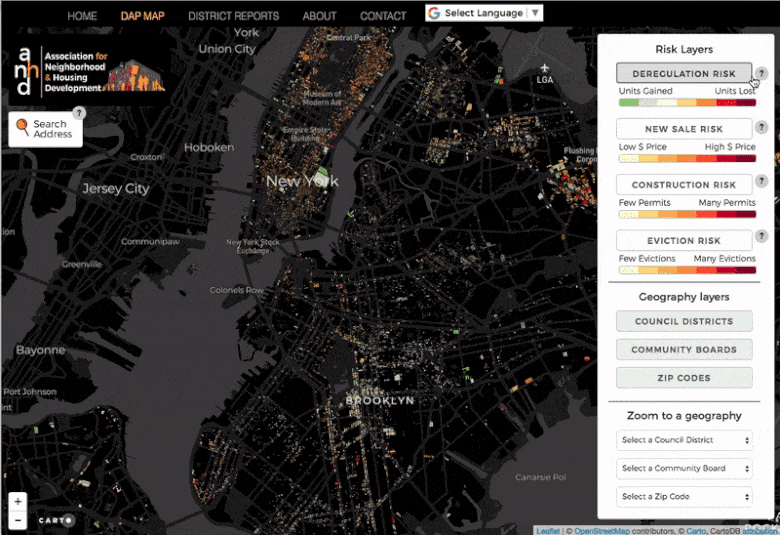 For more information about the Displacement Alert Map 2.0 or the Displacement Alert Project, please contact Lucy Block. For press inquiries, please contact Melanie Breault.
Spread the word! Share the #DisplacementAlert Map on Social Media
Click here for image and gif files to share along with other pre-set social media language.
How much do you know about the building you live in? Do you know if there are any rent-stabilized units in it? Do you when it was last sold? You can find that all out easily with the Displacement Alert Map 2.0! #DisplacementAlert https://map.displacementalert.org
The Displacement Alert Map uses loss of rent-regulated housing, property sales, construction permits, and evictions across New York City's 763,000 residential properties to capture our displacement crisis. Check it out for yourself #DisplacementAlert https://map.displacementalert.org
Displacement is a complex problem that looks different in #Bushwick than in the #SouthBronx or #Chinatown. See how it looks in your neighborhood #DisplacementAlert https://map.displacementalert.org
Go ahead, search your address and see what comes up. How many construction permits has your building had? Loss of rent-regulated units? Find out #DisplacementAlert https://map.displacementalert.org