Urban Manufacturing Accelerator Fund Enhances NYC's Position as Industrial Innovator

In New York City, economic development is a crucial equity challenge, an important policy challenge, and an essential community development challenge. To address growing inequality, we need to think about economic development in a bold and fearless way—one that supports economic opportunity for all communities, emphasizing the quality of the jobs created and the needs of New York City residents.
A Solution: Innovative industrial development is a path to a community's economic empowerment.
"Protecting and promoting our industrial sector is crucial to New York City's overall economic development. The sector provides over 450,000 jobs in New York City, making up nearly 15% of our city's workforce, while contributing over $1.7 billion annually in tax revenue."
While the rest of the nation's urban centers grapple with once thriving but now dormant industrial corridors, New York City has emerged as a leader in urban industrial development with a head strong focus on activating the industrial and manufacturing sector to advance economic equity. This leadership has not come easily. It has been thoughtfully created by many industrial stakeholders, policy makers, and communities. It has taken time, resources, understanding, and a genuine commitment to do something that is innovative and that will benefit diverse communities across the City.
These policies ensure that industrial development is sustainable and provides a long term, non-profit driven framework to guarantee affordability for existing and emerging industrial businesses. Although at times the process of developing a cohesive industrial policy has taken longer than many anticipated, the result is well worth the wait: outcomes directed at spurring more good paying jobs for more New Yorkers.
The most recent tool in New York City's industrial innovation is the Urban Manufacturing Accelerator Fund. Announced today by ANHD and Citi Community Development, the Fund creates and preserves quality manufacturing jobs in New York City by providing front-line resources, which enable non-profit developers to more effectively acquire, construct, and renovate urban manufacturing space. By stimulating the creation of new industrial and manufacturing space by non-profit developers, this new partnership complements the NYC Industrial Developer Fund (IDF) – a model program launched last year by the New York City Economic Development Corporation (NYCEDC).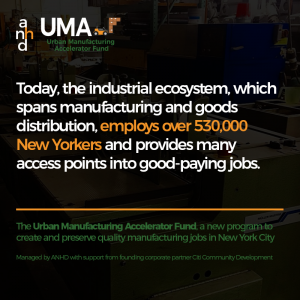 The goal of the Urban Manufacturing Accelerator Fund is to create 570,000 square feet of new industrial space through development of six to eight urban manufacturing facilities, leveraging an estimated $200 million in public/private investment while creating or preserving an estimated 500 quality jobs. The Fund will provide hands-on technical assistance and pass-through grant funding of up to $60,000 to support non-profit developers with pre-development expenses related to closing on Industrial Development Fund financing, helping to ensure that applications are credible and successfully managed through the City's review process.
Industry is not dead. Industry is reimagined.
Generally speaking, New Yorkers don't often see machinists and fabricators as leading innovators or pioneers to economic prosperity. Gone are the images of smoke stacks and walled factories that once dotted the waterfront. Innovation in manufacturing has had an enormous impact on the development of the City's economic growth; activating vacant industrial properties, ReFITing factories, and remediating once contaminated brownfields – making way for new educational and workforce opportunities and a path to the middle class.
ANHD's work with the City of New York to advocate for zoning tools to protect our industrial sector, combined with public and private partnerships have enhanced opportunities for industrial development. The Urban Manufacturing Accelerator Fund builds on the NYCEDC's Industrial Developer Fund and promotes non-profit controlled, sustainable industrial innovation that leads to good paying manufacturing jobs. The Fund offers an innovative approach to boosting New York's industrial and manufacturing sector, and an inclusive path to expanding higher-wage employment and greater economic security for New York City households.
This new tool, combined with policy momentum and the growth of the innovative industrial market, will ensure that New York City continues to lead on economic development. Just as New York City was the pioneer of affordable housing – our City is the pioneer for industrial development and economic equity.