In this disruptive moment, it has become even more critical to develop the next generation of community development leaders to address the underlying causes of racial and social injustices and inequalities that disproportionately impact communities of color. ANHD is happy to be partnered with Morgan Stanley Community Development for the 9th year, to offer 9 graduate students the opportunity to work on a high-impact, hands-on community development project at an ANHD member organization for the next 10 months.
Through the fellowship, students will share their expertise and provide much needed support to a local community development corporation (CDC) to increase organizational capacity on initiatives and programs at the forefront of the community development movement. Our fellows will spend a substantial amount of time dedicated to confronting the unique challenges in neighborhoods where the CDCs are located.
We'd like to introduce you to our latest class of fellows!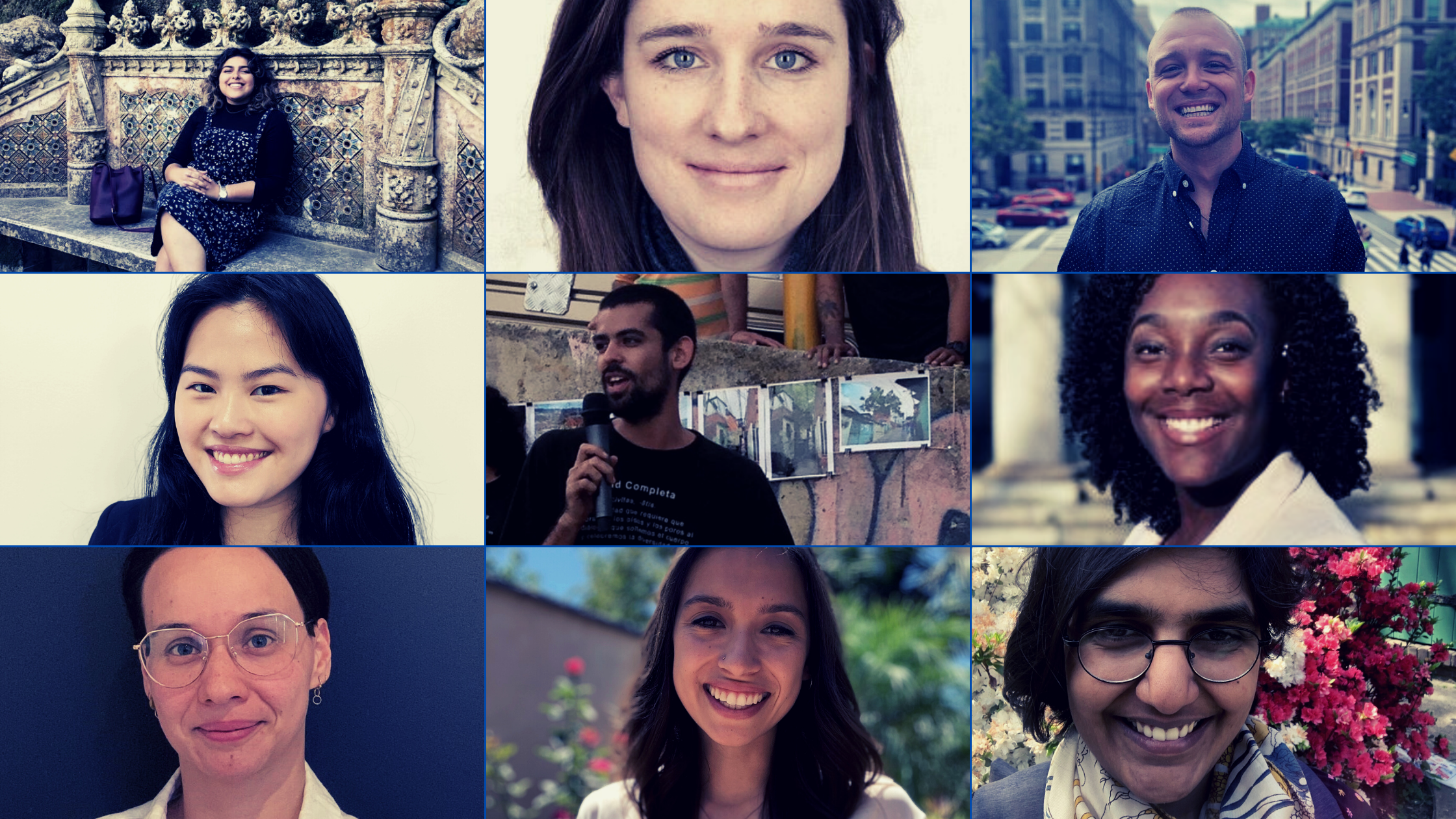 Lanier Hagerty
Columbia University GSAPP
Host Organization: New Destiny Housing
Lanier Hagerty is excited to be working with New Destiny Housing and support efforts to advocate for permanent and affordable housing solutions for survivors of domestic violence. A second-year urban planning student at Columbia University Graduate School of Architecture, Planning, and Preservation, Lanier looks forward to deepening her understanding of housing justice and community health issues in New York City.
Anthony Hascheff
Columbia University SIPA
Host Organization: Greater Jamaica Development Corporation
Anthony Hascheff is a former Peace Corps Volunteer in Paraguay where he worked on economic and community development at the grassroots level. He wants to continue to work at the intersection of community and economic development to promote a more equitable and prosperous New York City. Currently a graduate student at Columbia University's public administration program, Anthony is excited to work for Greater Jamaica Development Corporation.
Larissa Ho
Hunter College
Host Organization: Fifth Avenue Committee
Larissa Ho grew up in an immigrant household in New York City. Having witnessed the first-hand struggles of working families motivates Larissa's professional pursuit to create stability for the working class through affordable housing. Previously, Larissa worked to improve the waste reduction efforts at NYCHA and various neighborhoods in New York City. Currently pursuing a Master of Urban Planning at Hunter College, Larissa is excited to join Fifth Avenue Committee as a fellow to learn about ways to tackle unfair housing and the skewed distribution of opportunities with a sustainable lens.
Tomas Izarra
Hunter College
Host Organization: Hope Community
Originally from Caracas, Venezuela, Tomas Izarra is a sociologist with a great interest in urban aspects. With a focus on housing and sustainable development, Tomas is in his final year of the Master of Urban Planning program at Hunter College. Tomas is very excited to work with Hope Community, Inc. and help develop the Visit El Barrio Campaign.
Shani Ogilvie
Columbia University SIPA
Host Organization: Banana Kelly CIA
Shani Ogilvie is a native New Yorker receiving her Master's in Public Administration at Columbia University's SIPA with a concentration in Urban & Social Policy and a specialization in Management. Prior to attending SIPA, her work focused on public health, education, and advocacy for various populations including minorities, immigrants, women, and youth. Her roles included working as a case manager to alleviate clients' barriers to systemic health inequities. Most recently, she was the Senior Program Manager at a tech education program aiming to diversify the technology industry and the tech sector pipeline. Shani has an interest in Public-Private Partnership and is excited to join Banana Kelly CIA. After SIPA, Shani aims to start her career in public sector consulting with the goal of transitioning into the NYC Mayor's Office.
Ana Prada
The New School
Host Organization: Ascendant Neighborhood Development Corporation
Ana Milena Prada is a Colombian Architect with a minor in Geography and Anthropology, currently in her second year of public and urban policy at The New School. As an architect, Ana has worked mostly on projects that focus on urban planning, specifically on data collection, cultural heritage, community participation, housing, and mobility. She looks forward to working with Ascendant Neighborhood Development Corporation and learning more about New York City affordable housing, equity, and planning. She aspires to keep contributing to social justice through the implementation of creative, contextual, and localized public policies.
Annmarie Rodriguez
New York University Robert F. Wagner Graduate School of Public Service
Host Organization: Roseboro Community Partners
Annmarie Rodriguez is thrilled to serve as RiseBoro Community Partnership's 2020-2021 fellow and to develop a more nuanced understanding of the internal and external coordination required for successful affordable housing and community development. Previously, she worked as a research assistant at the NYU Furman Center and as a housing navigator and case manager at a nonprofit aimed at alleviating homelessness. Currently pursuing a Master of Urban Planning at NYU Wagner, Annmarie is passionate about serving low-income populations and is looking forward to working with RiseBoro's Real Estate Development team to do so through their housing plus projects.
Ooha Uppalapati
Rutgers University
Host Organization: Chhaya CDC
Ooha Uppalalapati is a Master of City and Regional Planning student at the Bloustein School of Planning and Public Policy at Rutgers University. She is working at the Ralph W. Voorhees Center for Civic Engagement at Rutgers, examining the status of federally assisted housing in Newark to better understand housing affordability in the city. Before attending Rutgers, Ooha worked with a non-profit in Mumbai, where she was part of research focusing on self-built neighborhoods and their relationship with the urban planning processes in Indian cities. She organized workshops to facilitate exchange of vocabulary of planning practice between the residents and planning documents. Previously, she was an Urban Fellow at the Indian Institute for Human Settlements where her learning focused on the different socio-spatial practices that constitute Indian cities. Ooha will be working at Chhaya CDC for her fellowship.
To learn more about the Morgan Stanley Community Development Graduate Fellowship, visit our website.