Cypress Hills Small Businesses Demand City Action Over Awning Fines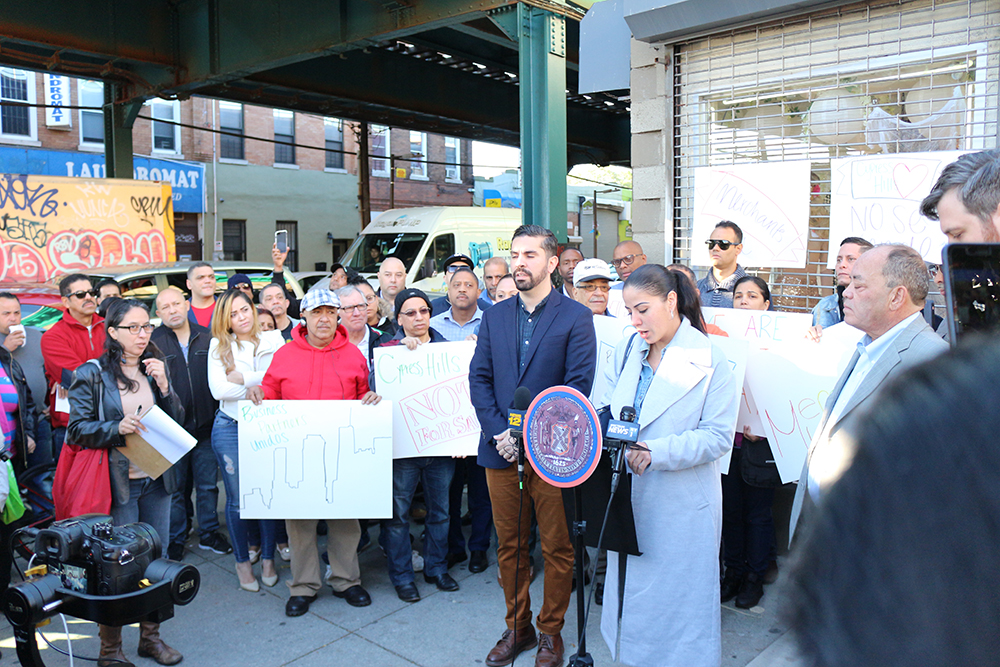 Small businesses along the Fulton Street commercial corridor in Brooklyn came out in force last week to urge City attention at resolving challenges to running their businesses. The Cypress Hills Business Partners Merchant Association and local business owners highlighted the heavy fines associated with awning violations, which has led some shopkeepers to face fines of as much as $20,000. These fines, in addition to increasing rents and a lack of commercial protections, make it harder for businesses to afford their space and stay open. Most of the businesses that have been targeted are immigrant owned. Along with Councilmember Espinal and State Senator Martin Malavé Dilan, immigrant business owners urged the City to intervene and alleviate this pressure.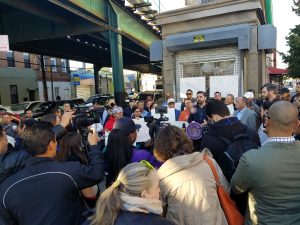 The call for the Administration to take action comes at a time when commercial tenants in commercial corridors across the city face an increasingly uncertain future. Based on the experiences of business owners, the fines jeopardize the viability of businesses that have been in Cypress Hills for decades. As some indicated in their remarks, the City's approach to fine rather than educate and help small businesses become compliant is also problematic. It builds a barrier rather than a bridge between potential city services and small businesses in communities.
As small businesses citywide continue to face displacement pressures from multiple directions, communities can learn from this mobilization by the Cypress Hills Business Partners Merchant Association. The City has an opportunity to step up and support immigrant small businesses and the communities they serve.
YASNIRI, OWNER OF TWO ROSES EVENTS
"My name is Yasniri Espinal, and I am the owner of Two Roses Events and a member of the merchant association. The DOB [Department of Buildings] has been too aggressive towards small businesses in the Cypress Hills community. As a small business owner, we are working extremely hard day by day to make ends meet. We feel that the DOB has been targeting the Cypress Hills community and needs to teach us how to fix this problem instead of taking advantage of it. My business got a summon from the DOB regarding our awning, and because of this, we had to hire an architect. This was pricey, and many of us don't have the money to do so. We are here to ask the mayor to work with us to find a way to comply with the laws without hurting our businesses."
JOSE LUIS, OWNER OF TIO DELI
"Mi nombre es Jose Luis Cepeda, dueño de la bodega Tío Deli y un líder de la asociación de negociantes de Cypress Hills. Estamos aquí hoy para expresar nuestra preocupación por la ola de presión a la cual estamos siendo sometidos los comerciantes de Cypress Hills. Somos una comunidad humilde y trabajadora, la cual aporta grandemente con sus impuestos a la ciudad de NY. Los pequeños negocios no estamos en condiciones de pagar multas tan altas, por lo cual le pedimos al alcalde que nos dé más tiempo para educarnos mejor en el problema y para poder legalizar nuestros letreros."
JAVIER SOLIS, OWNER OF LOS TAXES
"My name is Javier Solis, and I am the owner of Los Taxes and a leader of the merchant association. When I came to Cypress Hills back in 1994, I never thought this would become my permanent home and my business. I see how many small business owners struggle with the daily challenges we face to keep our doors open, and now we are faced with the lack of consideration of our city agencies. The sad and unfair penalties many of us have received for having inherited a business sign is escalating to thousands of dollars, and we still do not have a reasonable commitment from the Department of Buildings to help us come to a settlement where we can correct the problems. Our councilman Rafael Espinal is aware of the issue and is willing to work with us, but we need the Mayor to help us find an immediate solution to this issue."
JUAN DIAZ, OWNER OF AVI MULTISERVICE
"Mi nombre es Juan Díaz, dueño de AVI Multiservice, y un líder de la asociación de negociantes de Cypress Hills. He sido dueño de varios negocios en la comunidad por 25 años. Hemos recibido summons por no estar cumpliendo una ley que no sabiamos que existia. No hubo educación ni comunicación que la ley estaba en efecto ni cómo cumplirla. Es difícil mantenerse al tanto de cambios de leyes y regulaciones. Le pedimos al alcalde una campaña de educación al respecto, en inglés y en español porque somos una comunidad mayormente hispana."
JULIO TAVARES, OWNER OF TAVARES RESTAURANT
"Mi nombre es Julio Tavares y he sido negociante en esta comunidad por más de 11 anos. Recientemente yo recibí una multa del departamento de buildings por la suma de $ 5,000 dólares suma que por su alto valor en estos momentos yo no puedo pagar. Estas multas constante por las agencias de la ciudad, perjudican grandemente mi negocio. Por esta razón, hoy estoy aquí reunido con mis otros compañeros negociantes para pedirle al Mayor que por favor trabaje con nosotros para buscarle una solución a este problema."