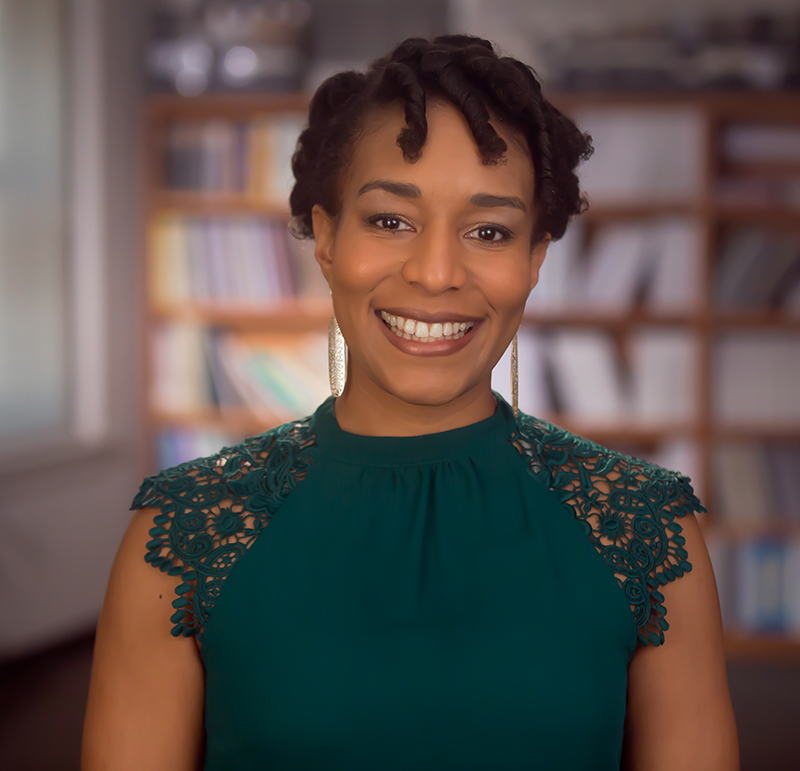 New York, NY – Today, the ANHD Board of Directors announces that Barika X. Williams will lead ANHD as its new Executive Director, becoming the first person of color to lead this citywide housing and economic development organization in 39 years. Barika has a demonstrated commitment to the New York Community Development movement and ANHD; we are extremely honored that she will be joining ANHD January 13, 2020.
Barika was previously with ANHD as Deputy Director until 2018. During her ANHD tenure she led impactful projects and initiatives – including ANHD's mandatory inclusionary housing, equitable economic development, and data and research work. She has an unparalleled breadth and depth of policy expertise on affordable housing and economic development, as well as deep knowledge on our organization, members, and the communities we serve. Perhaps most important, she's passionate about policies that advance equity, inclusion, and opportunity in all neighborhoods, especially for low-income communities and communities of color.
Prior to her appointment, Barika served as the Assistant Secretary for Housing for the State of New York under Governor Andrew M. Cuomo. There, she managed the Governor's major housing priorities consisting of various agencies with a combined workforce of over 1,000 employees and an annual budget of more than $2.5 billion dollars. She supported the Governor's programs and initiatives to increase NY State housing affordability including the $20 billion housing plan and expanding tenant protections statewide.
In previous roles, Barika has published on several topics at the Urban Institute, served as Project Manager for a leading DC real estate firm and on a community-based comprehensive education reform initiative. Barika holds a master's degree from MIT's Department of Urban Studies and Planning and a bachelor's degree from Washington University in St. Louis.
The Board firmly believes that Barika's appointment as ANHD's Executive Director will allow us to build on the solid foundation that former Executive Director Benjamin Dulchin, ANHD staff and our members have built to date.
"Barika's appointment as ANHD's new Executive Director is an exciting step for ANHD and all of our member organizations. Barika has a proven track record of strategically combining organizing, capacity building, research and policy advocacy, which will ensure our ability to continue advancing ANHD's mission and deepening our collective impact."
- Michelle de la Uz, Fifth Avenue Committee
"I can't think of anyone better equipped to build on ANHD's tremendous legacy of community-focused advocacy work than Barika X. Williams. In addition to her six years of experience at ANHD, she brings a strong set of skills and broad range of experiences across all of ANHD's program areas. The Board is excited to partner with her and the tremendous staff team at ANHD to continue strengthening New York City's neighborhoods well into the future."
- Chris Cirillo, Ascendant Neighborhood Development Corporation
"ANHD is thrilled to be welcoming Barika back to the organization in the role of Executive Director. Building on Benjamin's 10 years of forward-thinking leadership, we are confident that Barika will continue to take the organization to new heights."
- Scott Short, RiseBoro Community Partnership
This is an exciting moment for us, and we hope you will join us in welcoming Barika back home to ANHD!
The ANHD Board of Directors Executive Transition Planning Committee
Walter Roberts, Hope Community Inc.
Leah Archibald, Evergreen Exchange
Michelle de la Uz, Fifth Avenue Committee
Christopher Cirillo, Ascendant Neighborhood Development Corp.
Aron Kurlander, Greater Jamaica Development Corp.
Bernell Grier, IMPAACT Brooklyn
Brandon Kielbasa, Cooper Square Committee
Point of Contact
If you have any questions, please do not hesitate to reach out to us directly at Diana.B@anhd.org.