The Organizing Academy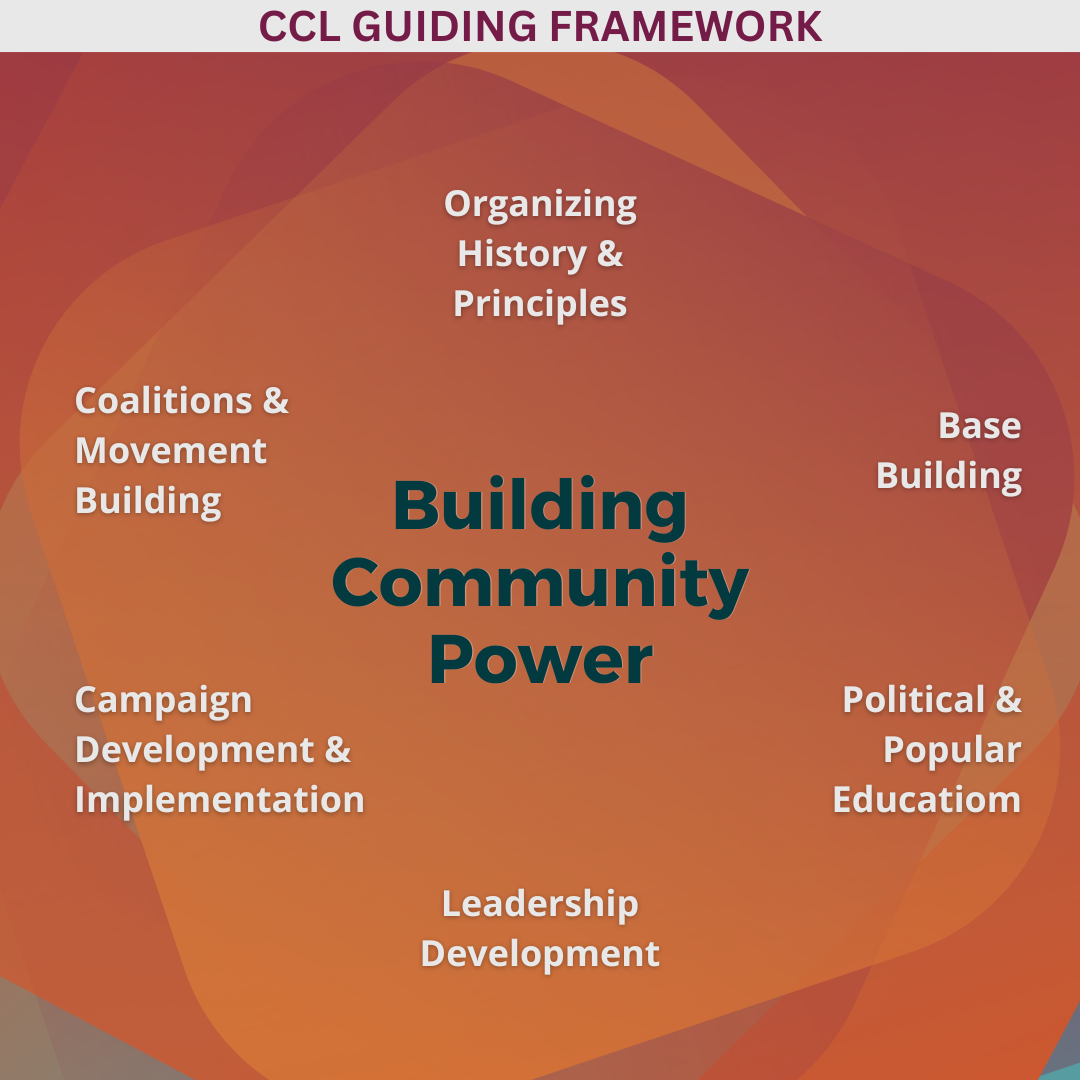 CCL programs are designed around a guiding framework for community organizing as a power-building practice and strategy that works to win concrete changes in people's lives and communities.
Our three cohort-based programs are:
Introductory Course
The CCL Introductory Course is a 10-month cohort-based training and support program designed for newer staff organizers seeking to develop foundational principles and skills.
Session topics include:
Base Building
Leadership Development
Work Planning/Time Management
Meeting Facilitation
Campaigns Strategy
The course meets from 10 AM to 1 PM, at least two Fridays each month, starting in September and running through the end of June of the following year.
2023-2024 Tuition
$2,000 ANHD Members
$2,500 Non-Member Organizations
Applications
Applications for the 2023-2024 Intro Course are closed. Sign up for updates on when applications open for 2024-2025 here.
Process
Fill out the written application
Selected applicants will be invited to a group interview with the course instructor
Accepted applicants will be notified over the summer
Course begins in September
Organizing Apprenticeship
In 2024, the CCL Organizing Apprenticeship is a 6-month training and support program for community members interested in learning about community organizing.
During the program, Apprentices:
learn and work for 20 hours a week for 6 months (January-June) with a $12,000 stipend
gain on-the-ground community organizing experience with an ANHD member organization
attend the CCL Introductory Course and other trainings and workshops to learn foundational organizing skills and principles
get career development support and resources through the ANHD and CCL networks
For more information, see our one-pager!
Apprentices
Community members seeking to work with a Host Organization in a 6-month paid position are either nominated by an ANHD member organization or apply independently to be matched with a group.
Participants in the Organizing Apprenticeship are trained as community organizers in a cohort-based model, form relationships with fellow organizers across issues areas, and deepen their knowledge of organizing and advocacy in New York City.
Apprentices participate in the Introductory Course along with additional sessions and workshops to support their development as staff organizers.
Applications
Applications for 2024 are now open and due by November 17th!
Process
Fill out the written application
Interviews: Either

Matching Fair (*if applying independently)
Individual interviews (*if nominated by an organization)

Accepted applicants will be notified in December
Course begins in January
Host Organizations
Open only to ANHD Member organizations—the Organizing Apprenticeship is a capacity-building opportunity for groups committed to training, supporting, and developing emerging leaders.
Organizations apply and either nominate a member leader in their organization to host as an Apprentice or go through a matching process to be matched with an interested applicant. Host organizations gain increased staff capacity to further local campaigns while receiving targeted support throughout the program. Apprentices work with them in a 6-month paid position.
Host Applications for 2024 are closed.
Advanced Seminar & Intensive
The Advanced Seminar is a course for experienced organizers to read, reflect, and explore ways to deepen their analysis and practice of community organizing. The seminar is designed to help experienced organizers get to the next level and dig deep into individual and institutional opportunities for growth.
Participants explore theoretical frameworks, reflect on current practices for their strengths and challenges, identify new practices to try, and then reflect on implementing them. The class is participatory and discussion-oriented rather than lecture-style.
Over the past few years, we have redesigned the structure of the Advanced Seminar to better meet the needs and interests of participants and organizations.
In 2024, the Advanced Seminar will run from January to June and consist of monthly group sessions. We will also offer the Intensive, which offers 1-1 personal sessions for Seminar participants who want additional support.
Session topics include:
Membership structure
Leadership development
Popular education
Supervision
Institutional Growth
Applications
Applications for the 2024 Advanced Seminar and Intensive will open soon. Sign up for updates on when applications open here.