Current Campaign
#SaveOurStorefronts: Commercial Rent Relief
Small businesses and nonprofits are a crucial part of New York State's economy and culture. The COVID-19 pandemic and public health restrictions have wrought havoc on these essential sectors of our economy, threatening millions of jobs and billions of dollars in tax revenue.
The inability to pay rent is the greatest existential threat for small businesses and nonprofits. Without rent relief, many New York businesses will not survive.
The Save Our Storefronts legislation (S8865/A10901) creates a path to recovery based on sharing the burden of the crisis. For the period from March 7, 2020 until 180 days after the state of emergency ends, businesses and nonprofits with fewer than 25 full-time employees would qualify for rent relief. The relief would be distributed as follows: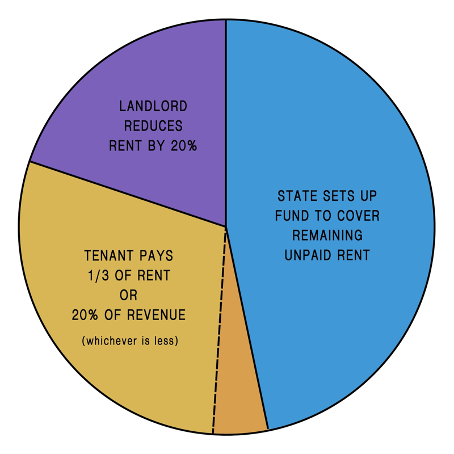 Do you need rent relief? Here's how you can make this happen:
#FairRentNYC: Commercial Rent Stabilization
Commercial rent stabilization would limit rent increases on commercial space. It would protect commercial tenants from displacement due to exorbitant rent hikes and unregulated fees and provide stability for small businesses and the people who depend on them. As we look toward recovery from the pandemic, we need long-term solutions that prevent speculation.
The rising cost of rent impacts commercial tenants across New York City. The communities that tend to be hardest hit are communities of color and communities facing rapid gentrification.
We need to prevent speculative landlords from profiting off our neighborhoods. 48% of NYC's small businesses are run by immigrants, and roughly 26% of New Yorkers work at a small business. When small businesses vanish, so do jobs, community spaces, and affordable goods and services.
Intro 1796-2019, which is currently in the city council, would create a board to set annual rent increase rates for small office, retail, and manufacturing spaces, as well as creating penalties for rent overcharges. USBnyc supports a strong commercial rent stabilization bill that includes mechanisms for enforcement and fair criteria for the board's decisions.