ANHD is today releasing the 2016 edition of How is Affordable Housing Threatened in Your Neighborhood? Each year, this "risk chart" chart takes a variety of indicators of threats to affordable housing and lays them out at a community-district level in a user-friendly format.Each reader of the risk chart will notice issues and patterns that are especially critical in their individual neighborhood, and we hope this information helps community groups and policy makers to develop effective strategies to address the affordable housing crisis.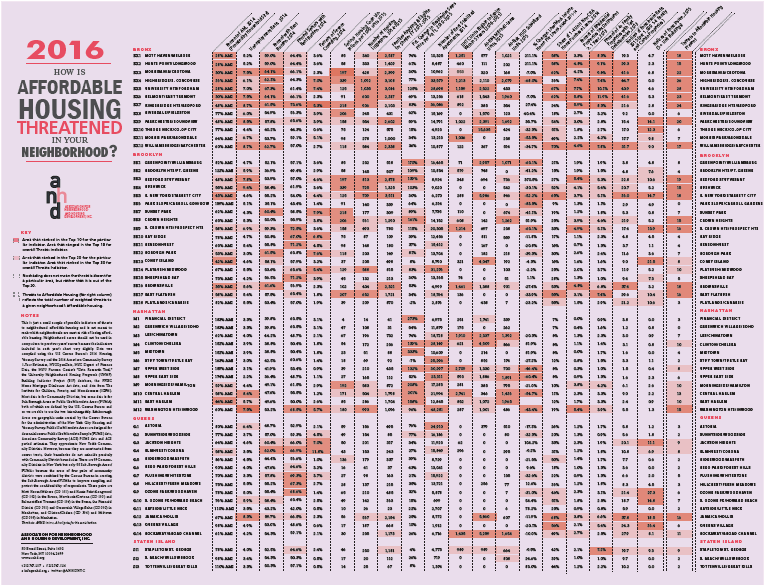 ANHD staff notes the following striking trends in this year's data chart:
Real estate speculation is a key driver of the loss of affordability, and the Change in Residential Sales Price column shows which neighborhoods are most affected.
Many neighborhoods have large numbers of affordable housing built with city subsidy in danger of going market-rate in the next few years, shown by the LIHTC Units Eligible to Expire column.
Foreclosure is still a significant problem in many communities with smaller 1-4 family homes.
The column on Families Applying and Eligible for Shelter shows which neighborhoods have the greatest risk of homelessness.
Local community organizations are often the most effective first-line defense against that a neighborhood has to stop the loss of affordable housing. There are two important Council-funded programs-the Housing Preservation Initiative (HPI) and Community Consultant Contracts (CCC) – that last year provided community groups with the resources to counseled over 16,000 tenants and 2,500 homeowners, and preserved the affordability of over 4,500 units that could otherwise have been lost to market rates.The mayoral-funded Neighborhood Preservation Consultant Program also supports core community strategies to combat displacement, but has unfortunately been significantly cut in recent years so it no longer supports this work at the levels needed.
In order to best achieve the goal of reducing the City's housing crisis, we must invest in the local on-the-ground neighborhoods partners who are more important than ever in helping protect tenants and stabilize neighborhoods and communities.