Why is AMI so different from real incomes?
A common misconception is that AMI levels are inflated only because HUD includes wealthier suburban counties in its calculation. Rather than just using New York City income data to calculate local AMI, HUD uses data from the "New York, NY Metro Fair Market Rent (FMR) Area," which also includes Westchester, Rockland, and Putnam Counties. Since these areas generally have higher incomes, they increase the AMI. However, the inclusion of suburban counties is only a small factor in the inflation of New York City's AMI.
The main culprit is the High Housing Cost Adjustment (HHCA), a convoluted step in HUD's calculations. The HHCA is specifically designed to increase the income pegged to AMI levels for metro areas where market rents are unusually high compared to incomes. Thus, in high-rent metro areas, AMI is actually not based on incomes at all. It instead reflects the area's sky-high rental costs. The logic behind the HHCA is that in areas with disproportionately high rental costs, more people will need affordable housing. By raising the incomes that correspond to each AMI level, HHCA makes more people, with higher incomes, qualify for affordable housing. The steps taken to calculate the high housing cost adjustment, outlined below, come from HUD's Income Limits documentation for the New York, NY HUD Metro Fair Market Rent Area in 2022.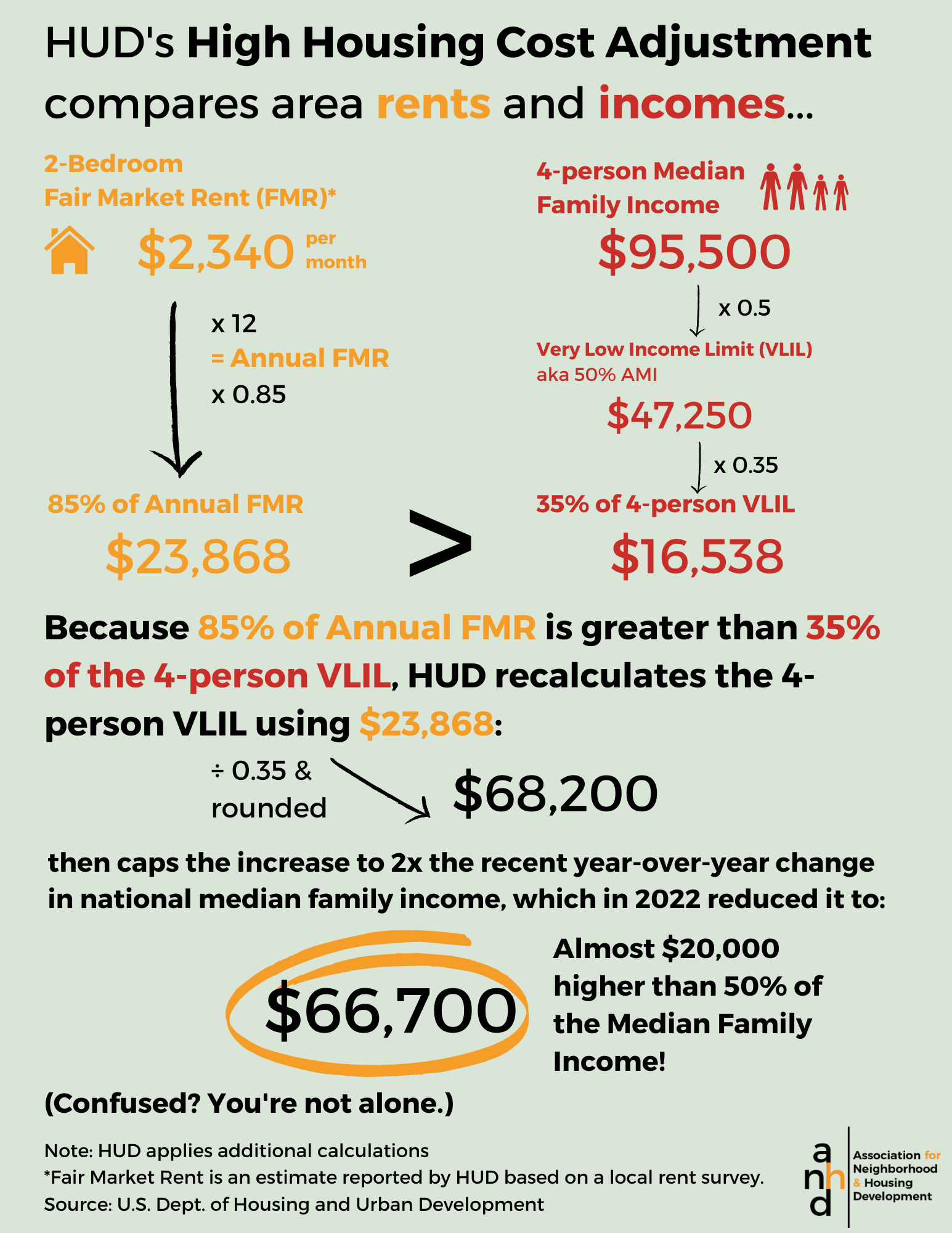 By comparing real household median incomes for New York City and the New York Metro FMR Area to 100% AMI over time, we see that the majority of the difference between AMI levels and actual household median incomes is due to the HHCA, not the inclusion of Westchester, Rockland, and Putnam Counties. This has been true every year of the last decade. The difference between real New York City median household incomes and AMI levels has grown even larger in the last five years, approaching $30,000 difference – in 2013 the difference was $18,407, and in 2022 it was $26,457. This means that over time, AMI is becoming increasingly disconnected from real incomes. Since maximum affordable rents are proportional to AMI, rents for affordable units have also risen faster than what New Yorkers can afford. From 2021 to 2022, AMI (and thus maximum affordable rents) rose 4%, while the NYC median income rose only 1.9%.