On Monday, the New York City Council held a hearing on an important expansion of the Certificate of No Harassment (CONH) Pilot Program, which is set to expire this month. The City Council's proposed CONH renewal will increase the number of buildings covered by the program, including in neighborhoods with a high risk of displacement. It will also compensate tenants for harassment they experienced.
The Coalition Against Tenant Harassment (CATHnyc), a city-wide coalition of community organizations and legal service providers fighting against the displacement of low-income tenants, organized to win the passage of the CONH Pilot Program in 2017. The program requires landlords who want to make significant renovations in their buildings to show they have not harassed tenants in the previous five years and get a CONH from NYC Housing Preservation and Development (HPD) before they are able to obtain certain construction permits from the City's Department of Buildings. CATHnyc's December 2020 evaluation of the pilot program revealed a necessity for CONH to be expanded and adjusted to achieve its intended impacts of disincentivizing tenant harassment and protecting affordable housing. The CONH renewal under consideration does this, and CATHnyc urges the City Council to pass the bill.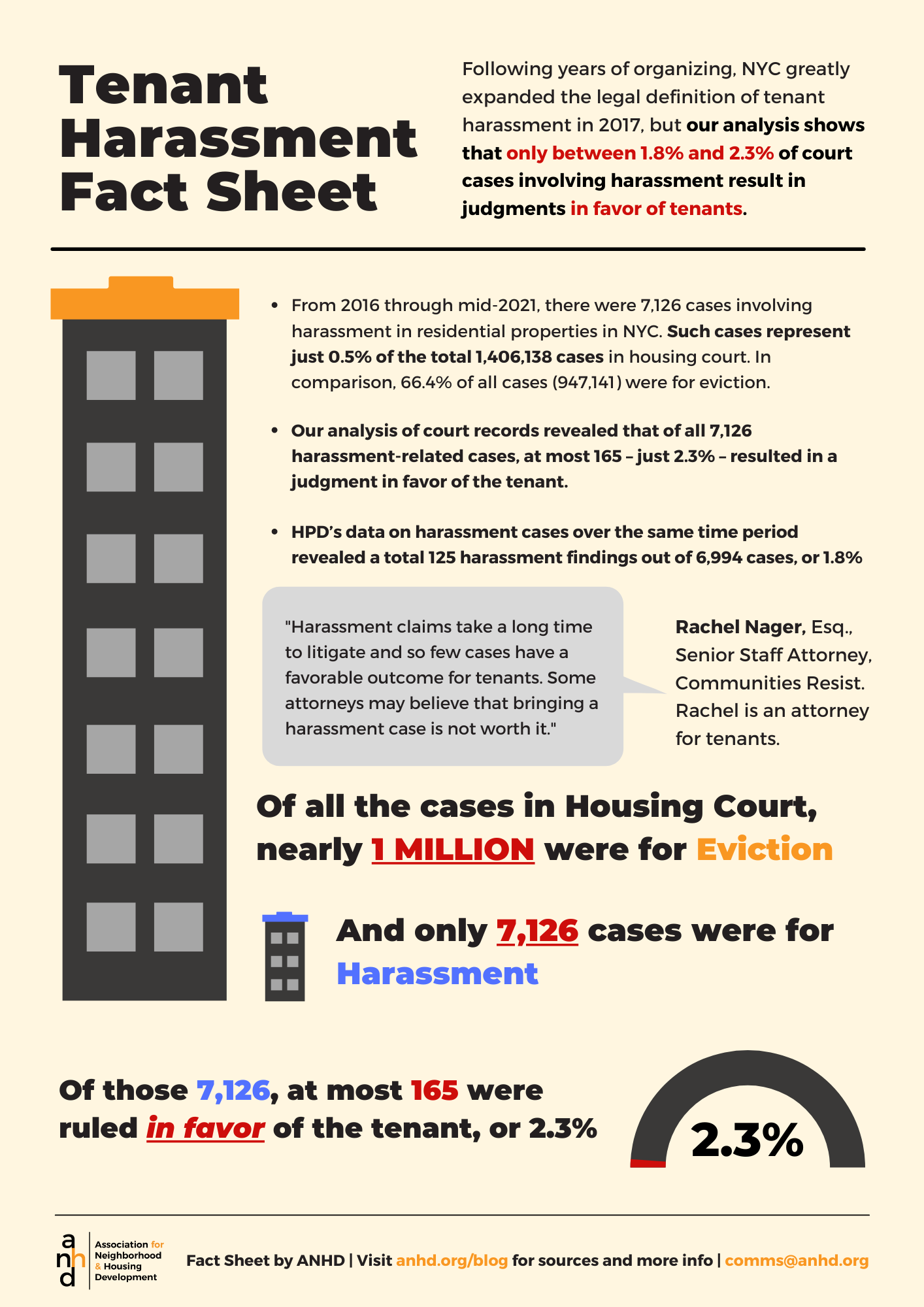 CATHnyc's research has shown that tenant harassment is not sufficiently being disincentivized and landlords are not being held accountable for their actions. Despite decades of organizing by the tenant movement and major advancements to expand the legal definition of harassment,[1] tenants continue to face harassment at the hands of their landlords.[2] ANHD's new analysis of court records shows the scale of housing court's failure to hold landlords accountable for harassment they perpetuate and remedy the problem.
Landlords have a range of legal and illegal tactics to make living conditions hostile and push tenants out of their homes – harassment is a mechanism of displacement and can be motivated by the pursuit of higher rents and profits, discrimination, and/or willful neglect. Working with tenants and organizers, the New York City Council greatly expanded the legal definition of tenant harassment in 2017.[3] However, ANHD's analysis shows that even with the adoption of this more comprehensive and accurate definition of harassment, housing court findings in favor of tenants are still dismally low: between 1.8% and 2.3% of court cases involving harassment resulted in judgments in favor of tenants.
"It's hard to say exactly why tenants bring so few harassment claims, but I believe that tenants who are not represented likely don't know to bring harassment claims," says Rachel Nager, Esq., Senior Staff Attorney at Communities Resist. Rachel Nager is an attorney for tenants and a member of CATHnyc. "The legal definition of tenant harassment is detailed and tenants likely don't know what they are experiencing is harassment. The lack of knowledge and/or the lack of accessibility to know how to bring a harassment case might be a cause for few cases filed. For represented tenants, their attorneys may advise to not bring a harassment case, even if the tenants have a strong claim, for the difficulty it is to litigate the claim. Harassment claims take a long time to litigate and so few cases have a favorable outcome for tenants. Some attorneys may believe that bringing a harassment case is not worth it."
Between 2016 and mid-2021, there were 7,126 cases involving harassment (classified as either Harassment or HP with Harassment) in residential properties in New York City. Such cases represent just 0.5% of the total 1,406,138 cases involving residential properties in housing court. In contrast, 947,141 – or two-thirds of all cases (66.4%) – in housing court were for eviction.[4]
ANHD's analysis of court records revealed that of all 7,126 harassment-related cases, at most, 165 – just 2.3% – resulted in a judgment in favor of the tenant.[5] Over the 5.5 years we analyzed, this equates to 30 rulings in favor of tenants per year.
Housing court data is imperfect and contains "noise" due to clerical errors, inconsistent data entry, and/or differing procedures across courts. To corroborate our findings, we also analyzed data from HPD, which manages its own dataset of court cases in which the agency is named as a party, which includes all cases brought against landlords. HPD's data indicates whether harassment cases resulted in a finding of harassment.[6]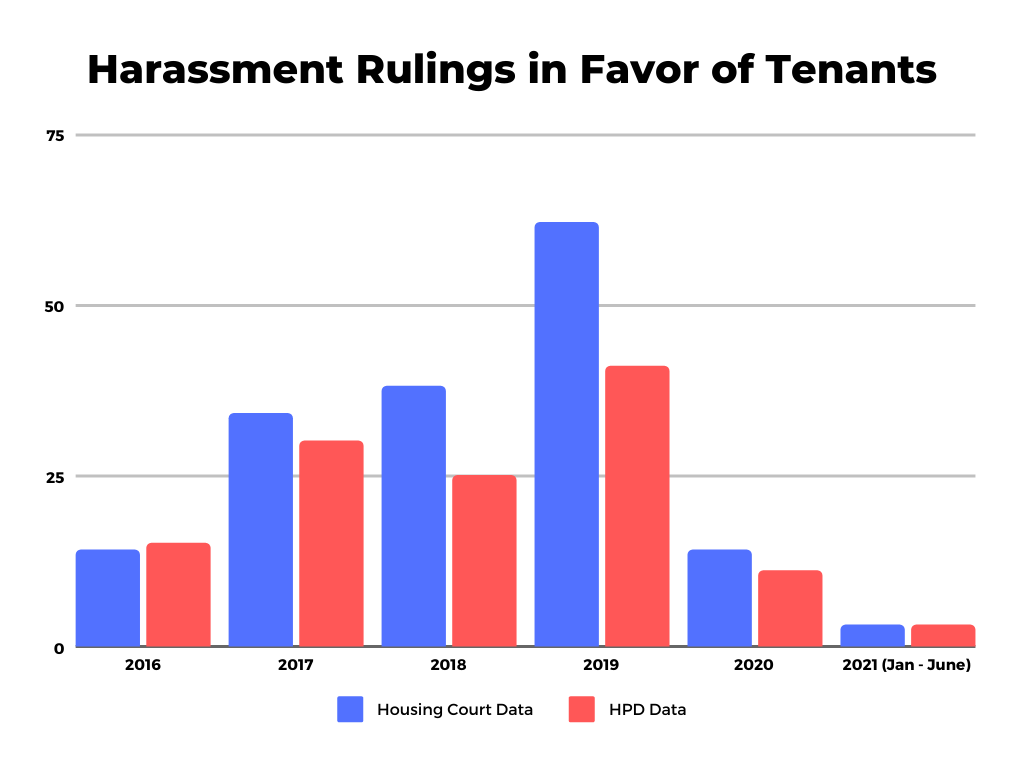 Our analysis of HPD litigations data on harassment cases over the same time period revealed a total 125 harassment findings out of 6,994 cases, or 1.8%.
Given our research found that harassment cases resulted in a favorable ruling for tenants between just 1.8% and 2.3% of the time, there is little reason for tenants or attorneys to invest the labor required to pursue a harassment case in court even if harassment has clearly occurred.
To truly hold bad landlords accountable, we need stronger oversight, enforcement, and mechanisms to disincentivize and penalize harassment. We need housing court judges to properly interpret and apply tenant harassment law in housing court. We also need programs like CONH to be as strong as possible, and that means expanding which buildings are subject to the program and making it work better for tenants.
---