Advocates Launch Small Business Anti-Displacement Platform
Group calls for City to Focus on Preventing Commercial Displacement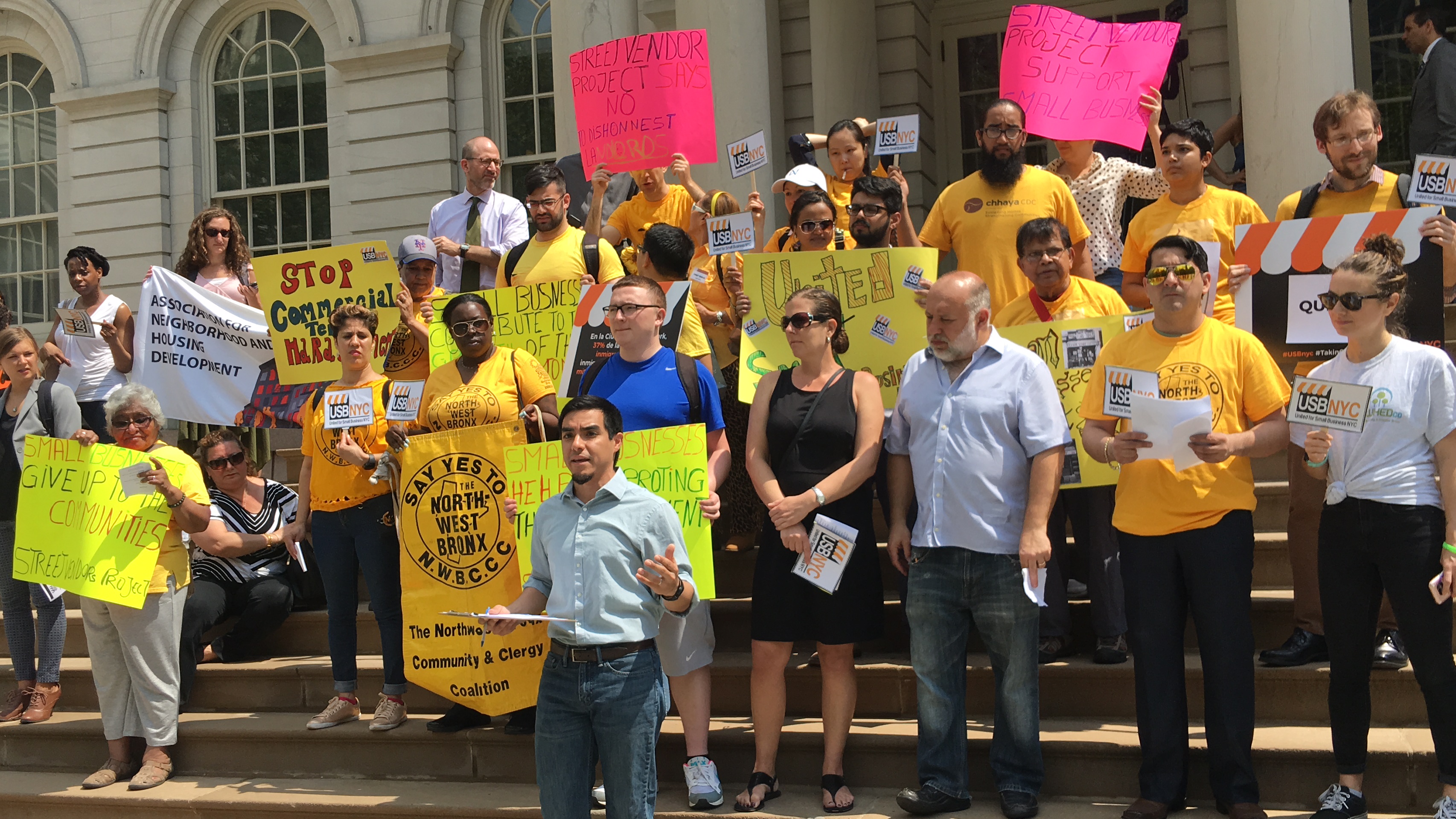 Today, advocates launched the platform for United for Small Business NYC (USBnyc), a coalition of community organizations across New York City fighting to protect New York's small businesses and non-residential tenants from the threat of displacement, with particular focus on owner-operated, low-income, minority-run businesses that serve low-income and minority communities. As part of their platform launch, USBnyc outlined recommendations to prevent small business displacement through a variety of policy and legislative solutions. In the coming months, the coalition will engage community organizations, commercial corridors, and elected officials to fight back against commercial displacement together.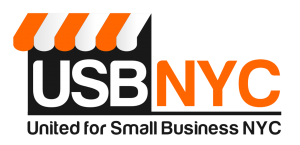 "For all of the progress we have made over decades to establish and protect the rights of residential tenants, the rights of commercial tenants are largely limited to what's in their lease," said Benjamin Dulchin, Executive Director at the Association for Neighborhood & Housing Development (ANHD). "With gentrification and displacement threatening the viability of commercial tenants in neighborhoods across the city, City Hall needs to develop tools to protect small businesses, create affordable space, and regulate bad landlords."
Under the threat of landlord harassment, impending displacement, and a lack of city resources, USBnyc aims to create strong, lasting protections for commercial tenants. The coalition was successful in helping pass last year's commercial tenant anti-harassment legislation, which for the first time ever allows commercial tenants to legislate against unscrupulous landlords. Now, businesses are looking to build on the framework of the commercial tenant harassment legislation by expanding the definition and providing legal services for small businesses.
"Small businesses provide employment to local residents. There have been many situations that made our businesses in the Northwest Bronx harder to manage. Landlords have raised rents, they stopped renewing leases" said Christian Ramos, President of the Northwest Bronx Merchants' Association. "We have the right to stay. We have the right to free legal services. Immigrant business owners also need protection and resources to survive. We need stronger legislation in the city that protects small business owners."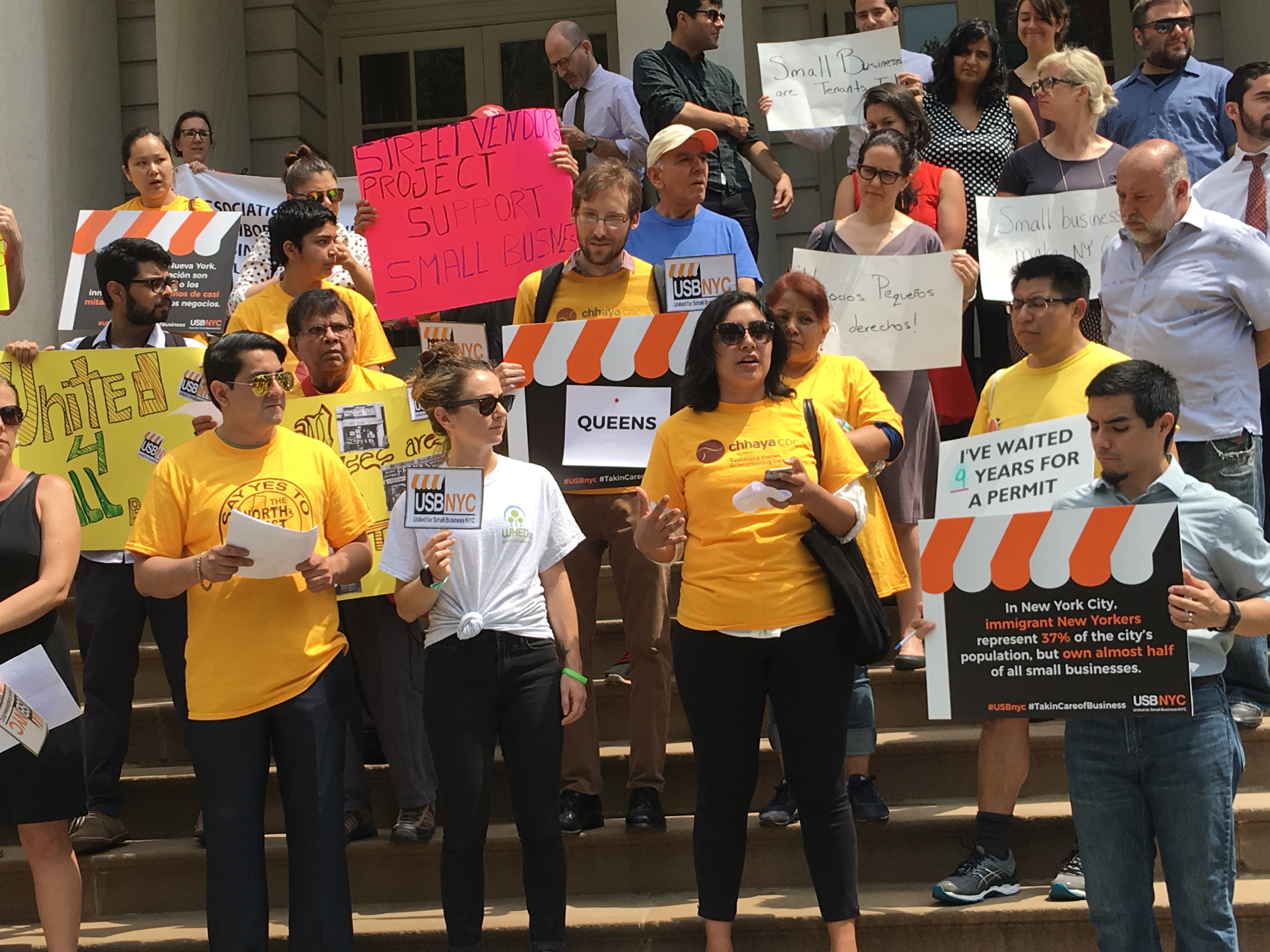 However, not all commercial corridors are experiencing the same challenges. While some areas have small businesses struggling to hold on, others are marked by vacant storefronts. These vacant storefronts became a reality as landlords wait for tenants who will pay high rents and receive no penalties for commercial warehousing. As a citywide coalition, the United for Small Business NYC platform targets this challenge by calling for the creation of a penalty system for commercial warehousing as well as new financial tools to facilitate development of affordable commercial space by non-profit entities.
"There are numerous storefronts that have been sitting vacant for many months, after landlords like Icon Realty bought out commercial tenants or refused to renew leases. While they sit and wait for some chain store or bank to lease their space, countless aspiring small business owners, many of them immigrants, lose an opportunity to make their American dream come true," said Steve Herrick, Executive Director of Cooper Square Committee. "It's time for the City to pursue an aggressive agenda to preserve small businesses, which reflect the character of our communities."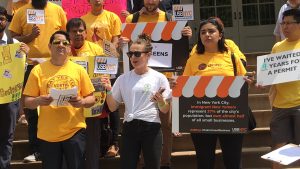 "For the past 25 years, WHEDco has worked to ensure that residents across the South Bronx have access to the resources we all need to thrive, including economic opportunity. Many of the local entrepreneurs we serve are immigrants operating in low-income communities. They're continually faced with an uphill battle because of limited access to capital that prevents them from growing, ever-increasing rents and operating costs, and predatory landlords that harass them with unreasonable demands," says Kerry McLean, Vice President of Community Development at WHEDco. "As a founding member of USBnyc, WHEDco is proud to add our 25 years of community development experience to the depth of expertise shared by the coalition's members."
Advocates urge the City to take action on these challenges, stressing that the continued displacement of small businesses from New York's communities exacerbates the cultural displacement underway citywide.
"Small business owners, the lifeblood of New York City, have very few protections under the law," said Gowri Krishna, Community Development Project at Urban Justice Center. "We support USBnyc's efforts to commercial tenants and help ensure their sustainability."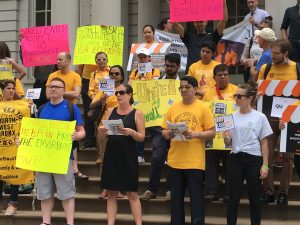 "BKA believes that small businesses are vitally important to the low-income, minority communities that we serve," said Meah Clay, Senior Staff Attorney for Brooklyn Legal Services Corporation A's Community and Economic Development Program. "We strongly support the fight to preserve small businesses against displacement in the face of rapid re-zonings and gentrification."
"This is a critical time for Small Businesses in New York City. Nearly half of all Small Business in NYC are immigrant owned and operated; these businesses are the unique makeup of our communities," said Annette Seecharran, Executive Director of Chhaya CDC. "Immigrant business owners in Queens are facing increasing competition and community displacement. It is important to advocate on behalf of the immigrant small business community and push for systemic change that improves the well-being of all small business owners."
USBnyc Membership
Asian Americans for Equality, ANHD, Banana Kelly CIA, Brooklyn Legal Services Corporation A, Community Action for Safe Apartments (CASA), Chhaya CDC, Community Development Project-Urban Justice Center, Cooper Square Committee, Fifth Avenue Committee, Fourth Arts Block, Make the Road NY, Northwest Bronx Community and Clergy Coalition, Pratt Center for Community Development, Spaceworks NYC, Street Vendor Project, Volunteers of Legal Service (VOLS), WHEDco